Kind of pretty, huh? This is the start of 'Bella' from White Lies Designs. I started it on Saturday, and haven't had time to do anything with it since then. I'm hopeful, however. I've joined up with Stephani and a couple of other knittyboarders on a new KAL. We're going for a sweater per month in 2007. I'd say it's part of my resolution to knit from my extensive yarn stash, but that'd be a boldfaced lie. I bought this yarn a couple of weeks ago. But look how pretty it is, all blue-black and silky. I'm proud of myself for starting something with it instead of shoving it in the special yarns box in the yarn cave. February's sweater will be from the stash, I promise.
So how's 'bout the rest of the resolutions?
--I went to the gym this week, and I'm going again on Friday. It's not the hard-core training I used to do, but it's a start. I even ran for a few minutes. On the food side, I've made a short-term goal of not buying Starbucks during the week. Three days down, two to go, but it's hard...
--It didn't work out tonight, but next week I'm going to the Pleasant Hill Borders to meet other knitters. If I don't happen to find them, I'm going to find random people around the store and make them watch me knit.
--It's been three days since I've called any part of the Microsoft .Net framework "thingy". I still don't really know what I'm doing, but the consultant working with us is patient. The more I listen, the more I pick up. The only problem is that I think my fledgling skills are making him think I know more than I do, so he'll break into a long explanation of exception handling and test harnesses, then he'll say, "You got that?" The hard but necessary response is, "No, not a bit." I think he's surprised when I don't feign knowledge.
--Call/write/e-mail -- I'm going to work on that next week. Don't want to overdo it, you know.
It's cold here, colder than it's been in years. Yes! Finally a reason to wear my wool hat!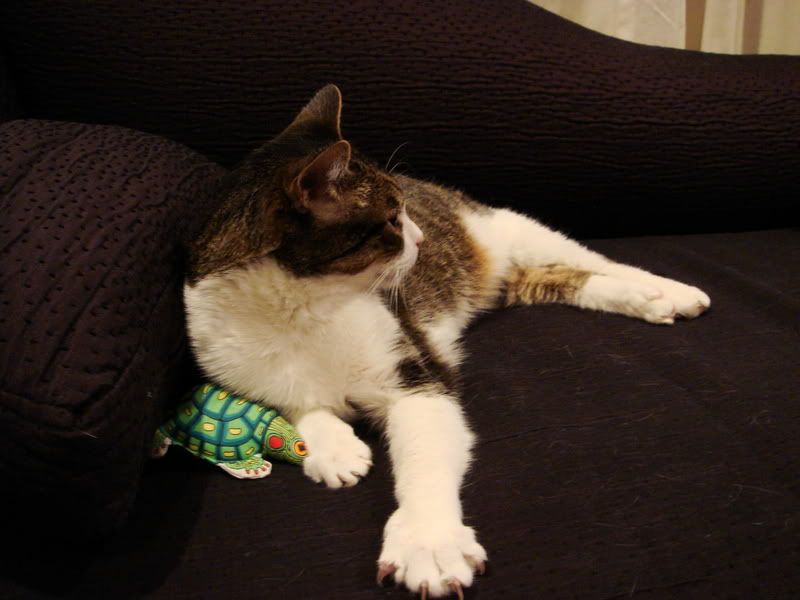 I must ask for quiet my dear Mr. Turtle. I'm watching 'The Colbert Report'. It would be a shame if I had to silence you...permanently.