In the interest of not putting yarn back in the bins, I took the rest of the Silkroad Aran from FEFI and made this sporty scarf. It took about three hours last Friday. Stash busting isn't just for big projects. Every little bit counts.

Details
Pattern
Hmmm. Yeah. Not so much. I chained until I thought it'd be long enough once it stretched out a little, somewhere around 60" (stretched out to about 72"). Turned around and half-double crocheted across. As I ran out of one color, I'd add another. I had this idea that it'd create a color block effect, but it didn't quite come out as I'd planned. It would have worked if I'd done a taller stitch. I thought about fringe for the ends, but it seemed like it would have made the whole thing too fussy.

Yarn
Jo Sharp Silkroad Aran in the following quantities: Parchment - 25 grams, Merlot - 25 grams, Casket - 34 grams, Venezian - 14 grams.

Needles/Hooks
Brittany Birch size K. Good, big hook. I have a set of metal hooks, and I use them when the yarn's clingy, but I much prefer the Brittany hooks.

Time
Rough guess? Maybe three hours. I started it here at work last Friday, and then when my boss' boss came by and asked why we were all still hanging around on such a nice day, I packed it in my purse and took it home. I remember watching 'Fast Money' while working on it, and I think I was done about halfway through Cramer's show.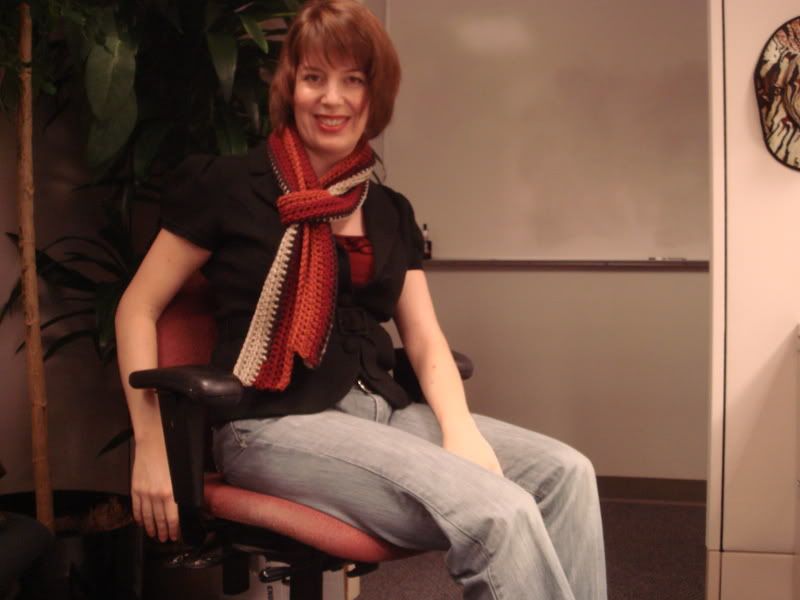 Conclusions
I hate to say it, but I think I love this scarf about a hundred times more than the Fairly Easy Fair Isle sweater. I think up excuses to wear it, find myself looking for casual tops that will just 'happen' to go with it.

It's slightly itchy around my neck, which tells me that I wouldn't want to make a turtleneck out of Silkroad Aran. A.B. asked me last night if I'd bought any more SA in the discontinued colors. "Shouldn't you do that before it's all gone?" Good man, that A.B.



I love half-double crochet. Look at how cool those rows look. It's reversible, which is a prerequisite for any scarf that I make. If I have to keep worrying about the right side showing when it's hanging around my neck, then forget about it.



I'm getting better at photo location scouting around my house. I think it's a matter of getting to know the new house and coming to terms with how different it is from the old one. In the old house, the front room got pretty much the same light all year round because it faces south-southeast, so I could always use the chaise for flat pictures, and the kitchen for modeled shots. This house is on the lot in such a way that the light in the summer is totally different from the light in the winter. We're in the part of the year where the natural light comes in at dramatic angles. Good thing I took this picture when I did, because when the house isn't being lit at dramatic angles, it's very, very dark. That's why my modeled picture was taken at work. Pale skin and wide pupils mean that I can't ever use a flash when taking a picture of myself without looking like a demon.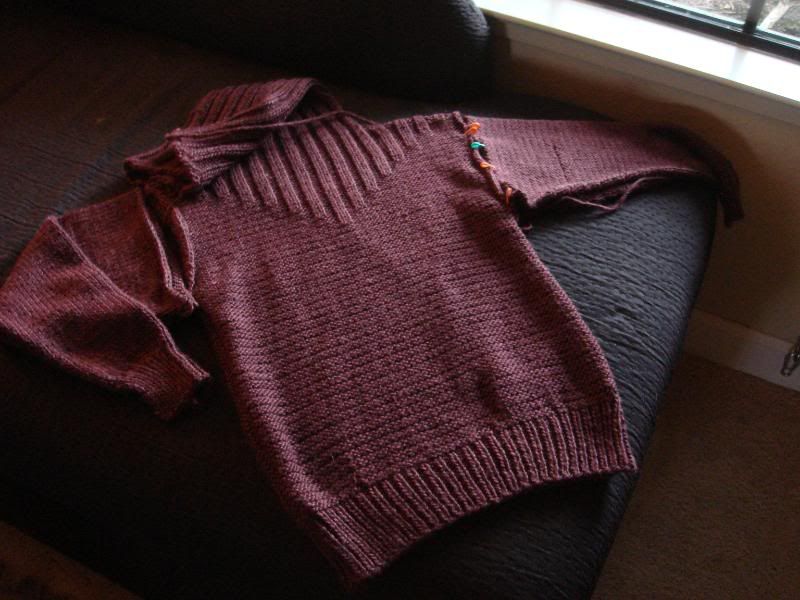 All I have left on Alexandra is the arm seaming and attaching. I got the sides sewn up last night, and I tried it on. It's a tad small when compared to the voluminous sweater shown on the model, but it's a good fit on me. I can't wait until it's done...which it has to be by the end of the night tonight so that I can start on my November sweater. Here's yet another reason that A.B. is the best husband in the whole wide world. When I told him that I had a deadline for Alexandra, he told Buddy and Winston that they needed to settle down and stop hassling me. "Guys, the Woman has to knit. Leave her alone. How's it going, honey? Can I get you a soda while you work?"