No, I haven't abandoned the blog. It's just that I wanted my next post to be about my completed Ingenue and how much I was enjoying it. I kept thinking of other things to post, but then I'd put it off because I didn't want to waste time blogging when I could be knitting. Slight problem with that tactic.

It's never going to be done. It's just...I...it's so...how in the Hell do other people do it so much faster? I mean, I know I'm knitting two or three sizes larger than my size because my gauge turned out to be so tight, but that just means that I'm only knitting as much as someone two or three sizes up from me would legitimately be knitting, right?

Yes, I swatched. And washed the swatch. Twice. And I should have frogged and restarted once I realized that this was going to be a problem, which I did realize about three inches down from the neckline, but I didn't. I made the choice and committed to this gauge and the modifications I'd have to do in order to make it work.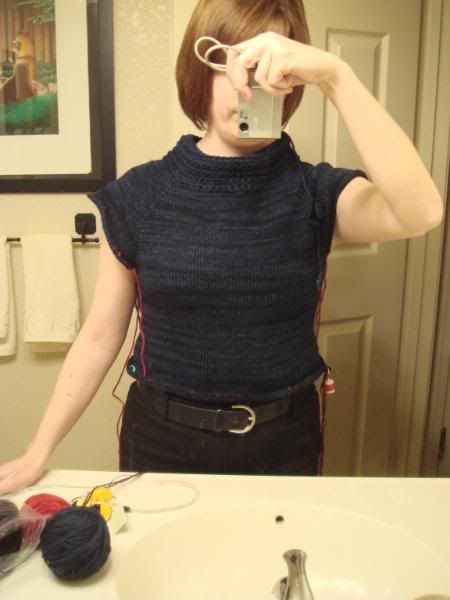 I am further along than this now, but it feels like not very much further along. I have the body done, but I need to undo the lower hem and a couple of inches in order to lengthen it and move the pattern up a little bit. I've resisted doing it so far because the only thing keeping me going with it is my ability to try it on and see how cute it's eventually going to be. If I undo the hem, I lose the ability to even do that. One arm is knit to about the midpoint of my elbow, but I can now see that I've picked up too many stitches around the bound off area, so there's too much fabric there. It's bunching up in a way that I don't think I'm going to be able to accept. I really ought to undo that arm back to the lifeline and redo it for a closer fit.

I keep pushing out the deadline. First, it was the end of November. Then it was last Friday, because I was going to wear it to a coworker's going-away lunch. Then it was Christmas Eve. Then it became "I'll work on it on Christmas Eve and have it done by...now I'm just lying to myself." The current unrealistic goal is New Year's Eve. We'll see. Maybe I should put it away for a couple of weeks and make it January's sweater.

So much yarn out in the stash bins, and I'm still stuck on this one project. I really need to sit down and figure out how to use that knitting machine.