There are certain things that were just better at my old house.

I love my new house. I love my neighborhood, and my view of Mount Diablo. I love that Accountant Boy isn't in constant danger of bumping into walls as he walks around. Our old house had four bedrooms and two bathrooms, each with a doorway, tightly compressed into 1200 square feet. Every time he turned a corner, he ran into a different corner. So it's nice to have a house that's more his scale. I didn't mind the smaller house, but I'm a foot shorter than he is. I could live in a hobbit cottage and be happy.

The new house is bigger, it's more modern, it has central heat and air, and it's welcoming and attractive. Yes, I'm glad we moved.

Still, some things were just better at the old house. When I used the hair dryer, the lights in the bathroom didn't dim. When I walked past the windows, I didn't feel the burning rays of the sun on my skin through the glass. The kitchen, well, that goes without saying. But you know what I really miss? The photo lighting.

I haven't found a good spot yet for photography, maybe because the windows don't have UV filtering glass, or maybe because the house faces west, so we don't get filtered midday sun. The beige carpet is a bland backdrop, and the lighting on the purple couches is either too bright or too dark, with no area in between. Also, the counters in the old house made a perfect backdrop. They were the color of warm sand, a color that complemented everything I put on them, and they were honed so they didn't produce a glare. The white tile in the new kitchen makes everything I place on it look sickly and grey.

I know it's stupid to miss my old house because of the lack of adequate knitwear-friendly photographic lighting. I know I could take my works-in-progress over there and photograph them, and we probably should go over there more than we do anyway, because if we did, we would have seen that I'd screwed up the timer on the irrigation system, and then lawn would still be alive, and Daisy and I wouldn't be having this regret-filled conversation about our mutual misunderstanding. ("I told you it looked bad!" "I thought you were talking about the patches where the puppy pees." "I was!" "But the whole lawn's dead!" "She pees in more than one place..." "How much do you think she pees?! She's not an elephant, for God's sake. It's the whole lawn!" "I TOLD you it looked bad...") We all thought we were giving the clearest answers, and none of us realized that we weren't asking the right questions, and we all feel really bad about it, and it's nothing that a generous amount of overseeding won't fix, and Ron the Gardener is disgusted with the lot of us. Long story short, we all killed the lawn, but never mind that now. We've gone off point. The point is, if I miss the beautiful lighting in my former front room, I should haul my ass and my knitting over there instead of complaining about it.

But what's this? Have I maybe stumbled onto something here? These shots look pretty good to me. I like the hue, I like the light levels. All I have to do is schedule my photo shoots for 8:17 a.m. and make sure whatever I'm shooting will fit on the bright orange top of my tiny bistro table. That pretty much limits me to two skeins of yarn, books, and maybe one crochet hook.

So here it is. A sample of the yarn that's going to make Violette le Duc and the book containing the pattern, set against the lovely orange backdrop of the cheapest round tablecloth I could find and Bed Bath and Beyond.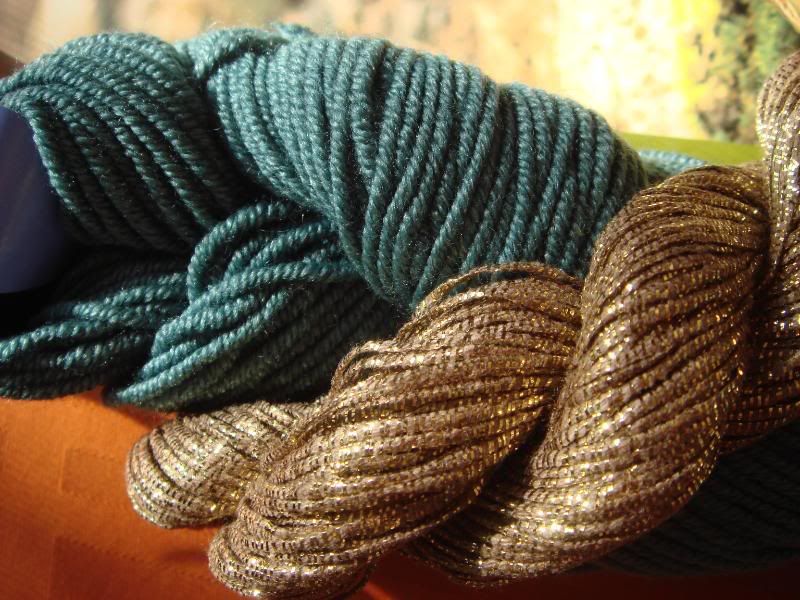 "Suzanne, did you just buy more yarn, right after saying you were done for the year?"

Yes. Don't judge. I'm having a bit of a time lately. And it was my birthday. Look! Over there! A puppy!