"I just had a flash of a dream. It was a tight shot of a woman's hands wrapping blue neoprene pads around the legs and feet of a rooster. There was an even tighter shot of the neoprene covering the rooster's talons. I watched as she then put a full body suit on him, pressing it firmly closed at the breast, and pulled a tiny hat over his head and fastened the extended neck guard, all also made of neoprene, under his beak. I didn't see any more of the woman than her hands. The whole scene took about ten seconds, and it looked like background video from a newscast."

"Sounds to me like someone's angling for a spot on Donny Deutsch."

"That's my big idea? Protective gear for fighting chickens?"

"It practically sells itself!"

"No, no it doesn't. Because here's what else I remember. The suit completely enveloped the body of the rooster, pinning his wings to his body. How long do you think the cockfight's going to last if the roosters lose their balance, fall flat on their backs and end up futilely kicking the air with their little neoprene legs?"

I had that dream a little more than a year ago. I still don't know what it means.

Meanwhile, I finally decided that I hated the idea of a Big Kureyon garment, but that I hated the idea of ten balls of the stuff sitting in my stash bin even more. My knitting friend, let's call her Natasha, and I recently took a crochet class. I already knew how to crochet, but it sounded like fun, so what the Hell. Anyway, someone asked the instructor what would happen if one kept adding rounds to a granny square, as though there were some punishment to be meted out for not stopping at the prescribed number of repeats. "You'd just have a bigger square. But why would you want to do that? It'd be so boring."

Challenge accepted, my good man.



Details
Pattern
No pattern.

I took a ball of Kureyon, chained six stitches, joined, made granny square rounds until I'd almost run out of yarn, then fastened off the last loop. It ended up being eleven rounds for each of the big squares.

It seemed like it was going to be too small when I finished, and I spent a good bit of time thinking about how to stretch it out to twelve squares. No matter how I did the math, I was never going to get more than eleven out of it. I'd play around with Post-It notes during conference calls, rearranging the squares on my desk in as many ways as I could think to shift them, but all of the best arrangements, meaning those that would make the final product look like a blanket instead of an unfinished craft class experiment, had either nine or twelve squares. I finally came up with the four little squares solution.

And you know what? The instructor was right. It was really, really boring. The only thing that kept me going was watching the color changes happen.

Yarn
Noro Big Kureyon in color 8, long discontinued. I used about eight and a half balls of it.

The color's hard to photograph. The close-up under the bright light captures it, but that's not entirely true, because it's never under that kind of light in my house. It ends up looking murkier than that most of the time.

The yarn itself is, well, it's Noro. Some of the balls were continuous, some of them had three or four knots in them. The color repeats weren't consistent from ball to ball, which is obvious when you look at the squares. Each was started with one end of the ball and worked straight through. No two are the same. That's the nature of Noro, and that's why I don't work with it much. That much inconsistency drives me crazy.

It made a fairly stiff blanket, because the yarn is bulkier than it seems in the skein. It'd work almost as well as a rug.

Needles
Brittany Birch hook, size I, except when I'd forget and pick up the H by mistake. I don't think it happened too often, though.

Time
About two weeks to finish the squares, mostly on lunch hours. It took another week for me to get around to linking them all together, and a couple more days before I felt like weaving in the ends.



Modifications
None, because it wasn't a pattern.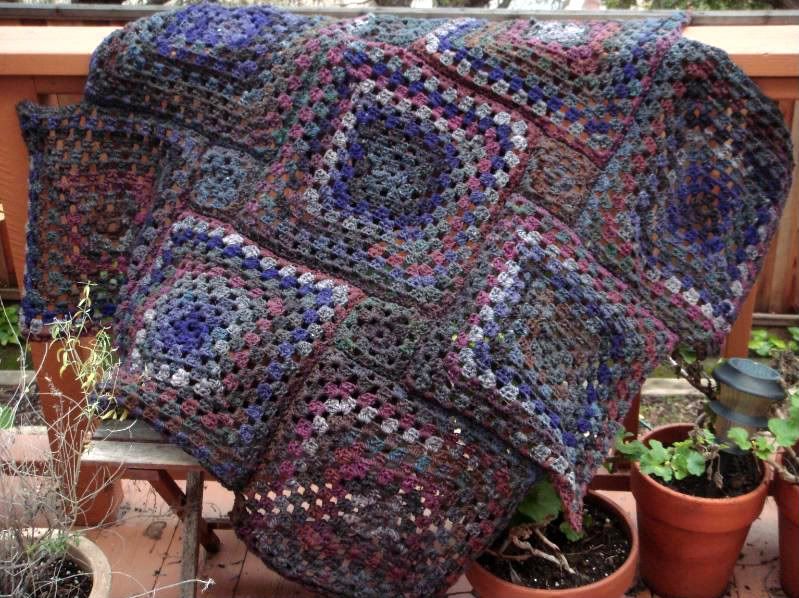 Conclusions
Is it the most finished, elegant blanket I've ever seen? Well, no. I got bored when sewing in the tails, so some of them cross back over other stitches. The wool is more rustic than I usually like. And, you know, it's granny squares. It's going to be more country than rock 'n roll.

But here's the thing. I was never going to make anything else out of that yarn. Ever. I got a good-size blanket out of it, especially after washing and blocking. It took three weeks total, and that's with a few days of staring at the stack of squares and sighing because I didn't want to put the damned thing together. I got rid of about 1400 yard from my stash, with enough left for a scarf.

The most important thing is that I like looking at it when it's wrapped around my feet. The colors really are beautiful. All in all, a success.

...and then I saw this. Now I feel inadequate.