The Tweedy started to hurt my hand, and it seems like it might be a little bit wide. Now, maybe this is just a matter of me only having a couple of inches of the back done. Maybe if I kept going, I'd see that it's actually the right width. Or maybe I'd only be torturing myself for another two dozen rows, and I should pull the whole thing out and restart it on smaller needles. I can't decide.

This indecision really took hold, and I've been unable to start much else as a result. What if I start another sweater and my gauge is all wrong on that one, too? What if my gauge is right, but I make the wrong size? What if I make it the right size, but then I, through the miracle of some heretofore undiscovered force, suddenly lose ten pounds and it ends up being too big? Horrible doubts.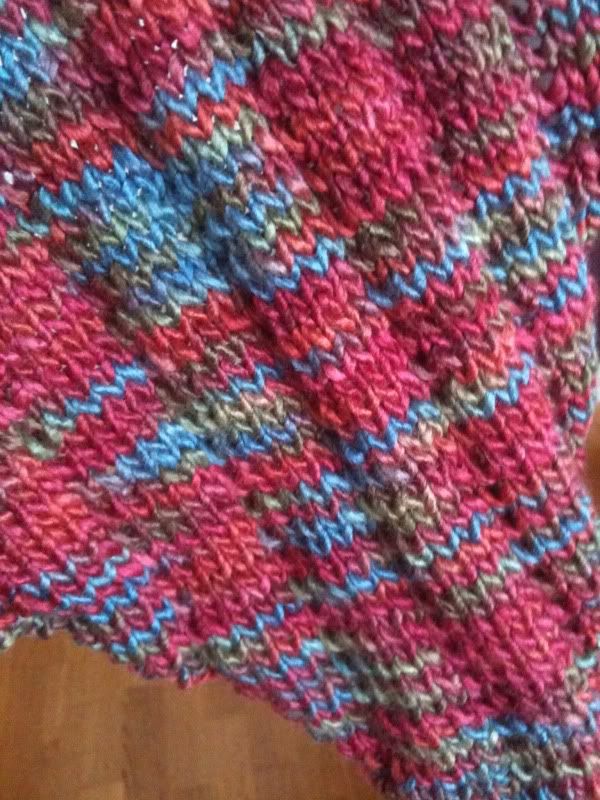 And this is the result. I grabbed a bag of Lion and Lamb that was supposed to be made into a sleeveless wool turtleneck, and rethought its destiny. Firstly, I now accept that I haven't looked good in turtlenecks since I was, oh, I don't know, maybe four years old. Secondly, I've outgrown super-variegated sweaters. Just don't like them anymore. Finally, let's face facts. I live in a climate where the summer temperature regularly crest the triple-digits. Sleeveless wool turtleneck? Sleeveless WOOL turtleneck? When was I ever going to be comfortable in that thing? What was I thinking? Since I bought this yarn at Stitches more than four years ago, I can tell you that I probably wasn't thinking about any of those last three points.

This wasn't even TSEBA yarn. I didn't like it enough to save it for the perfect project. It was just sitting in the bin, mocking me with its Carnevale-like festiveness.

I picked up some needles, wound up the three skeins, and off I went. Seven days later, I had a Clapotis.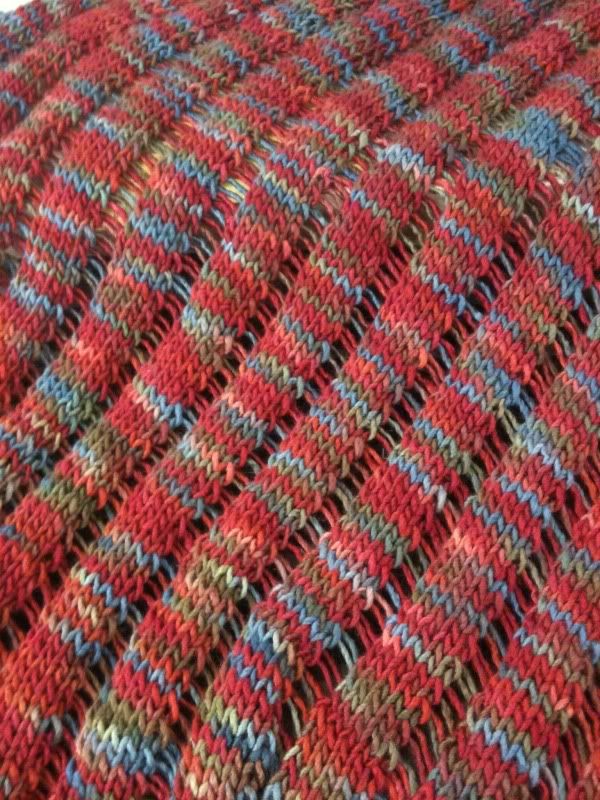 Details
Pattern
Clapotis by Kate Gilbert (Ravelry Link)

Size
The one in the pattern. I increased to the number of stitches listed, knit until the first skein ran out, then noted how many straight rows I'd knit to that point. I knit the whole second skein, then knit the same number of straight rows I'd knit with the first skein before starting the decrease. I ended up with only a few yards leftover.

Yarn
Lorna's Laces Lion and Lamb in Tuscany. I loved this yarn in the skein, but not so much once I started knitting it. In sunlight, it looks like the Easter-themed wrappers on Hershey's Kisses. Under incandescent light, it looks like the decor in Harrah's Las Vegas. Most of the time, and especially at work under the florescent light, it just looks bland, which is odd. It's so colorful, but the individual colors blur into each other into a less interesting whole. That being said, it's a really soft yarn, and was wonderful to knit.

Needles/Notions
Brittany Birch size 7

Time
Exactly one week, although I had a cold for part of that time and knit while watching perennial favorite movies.

Modifications
I screwed up on the straight rows, decreasing too much on the rows where I dropped stitches. I realized it about halfway through, so I made up for it by increasing on the drop-stitch rows for the last part of the straight section. It's very, very slightly curvy on one side for that reason.

Conclusion
It's a Clapotis. It's done. I don't like it as much as the first one I made. It's heavy in worsted weight yarn, and it's not my favorite color. Still, it's pretty and it's comfortable and warm. I took it to work, where it'll be my chilly-office wrap. You know. For when I wear sleeveless turtlenecks.