Remember this dress? I was going to knit Elspeth from Rowan 37 to go along with it? It's been so long that I'm now having second thoughts. I'm not sure Elspeth is right for this dress, and having seen so many otherwise brilliant knitters having trouble with the fit, I'm concerned. Knowning how much crochet I'd have to do around the border has me more concerned. Spending time knitting and seaming and crocheting, and then finding it doesn't fit? That could very well break my will to knit, so fragile lately anyway. I've barely recovered from the Bella unravel. I can't go through that again.



So what should I do? I don't want a shawl because I don't want to have to hold it in place or tie all of that material at the front. I don't want just a shrug, because I have pretty broad shoulders, so shrugs don't usually fit the way I'd want. They ride up in my armpits, and they create the illusion of this vast expanse of skin across my upper chest and collar -- let's just say it, they make me look like a zaftig milkmaid. Not quite the look I'm going for here, so I settled on bolero. I have something like twenty-four balls of Baby Silk in this salmon color, and an equal number in seashell pink. I need a bolero or cropped sweater that will look good with this dress.

I'm open to anything, really. Lace, cables, loads and loads of stockinette, free pattern or one where I have to buy the book, whatever. Nothing where I have to look at a chart for every row, though. I'm done with that for a while. (I bound off the second front of Starsky last night.)

Please also consider that this is going to be worn to a June wedding. In Tulare, California. If Hell had a dry sauna, the damned of Tulare would walk into it and scoff, "Thermostat broken or something? It's chilly in here!" In other words, no suggestions where the pattern begins "knit with four strands of yarn held together."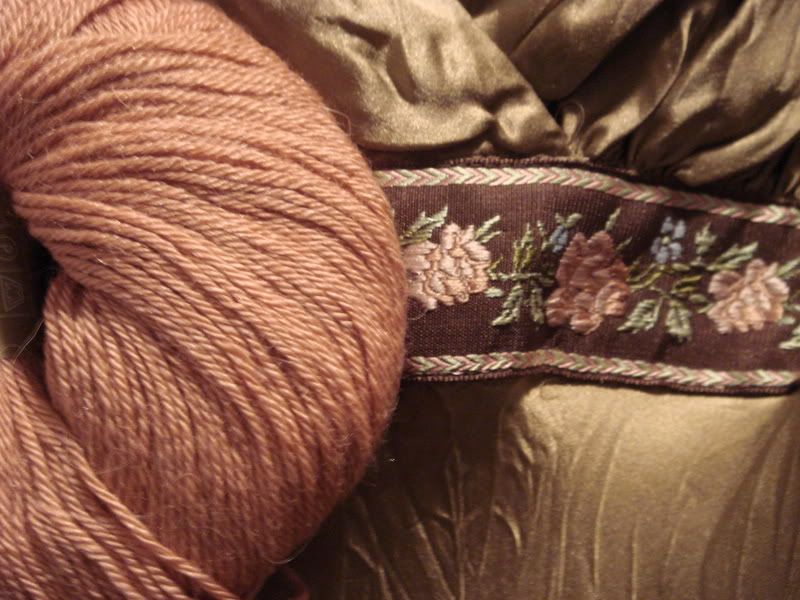 Let's make this interesting. If you leave a comment for this post between now and midnight on April 4th, you get entered into a drawing to win one skein of Mountain Colors Weaver's Wool Quarters (350 yards of sport weight wool) in Ruby River, already wound into a neat little cake.

Please help, dear readers. Don't make me tie that friggin' shawl around my shoulders again.