Now:

I kept thinking there were more of them, so I went through and rounded up all of the WIPs. What do you know? There are really only five things on or almost on the needles. We've got Bella, the start of the Portland Pullover, the back of Starsky, Sahara Knitted Something, and a silk project to be named later (SPtbNL).

Bella's going well. The back's done, and I'm seven inches into the front. Sahara Knitted Something stalled because I did the waist shaping a little too soon and I don't feel like ripping it back right now. Portland Pullover is waiting for me to go downtown and buy a 12" US11 circular. I forgot all about Starsky for months, and now I wish I had it done. It looks black in the picture, but it's actually a beautiful brown, like the inside of a bordeaux candy. Now that I've shoved it back in the hatbox, I'll probably forget it for another seven months. SPtbNL should turn into something within a week. It's got places to go, people to meet.


You know that wedding I mentioned in my first resolution post? This is the dress I want to wear. I'm going to have a couple of tiers taken off of the bottom, because I'm not as tall as the usual Betsey Johnson shopper. I have friends, twin sisters, who are the perfect Betsey size 6. They're 5'9", and they each weigh less than 130 pounds. Me? Not so much. I'm better than 130, and I'm six inches shorter. Less flowing than clingy, this dress hits me low on the calf, when it should hit at or just below the knee. I want it a little more cocktail, a little less Oscar red carpet.

What's that got to do with knitting? I'm still not giving in and making a shawl or a stole for it, but I do want a little something for around my shoulders. When I bought the dress, the chipper Betsey employee tried to sell me a little bolero to go with it, soft, lacy knit thing retailing for about a hundred dollars. "It's so CUTE on YOU!!!" Never mind that she said the same thing about every other item I tried on, even the crap I pulled over my head to try to trip her up. "That's PERFECT on you!!" Really? It's a size and a half too small, and it's giving me back cleavage that rivals my front cleavage. Cabbage rose print with the flowers perfectly centered over my breasts like two frilly bullseyes? "SO flirty!!!" Look, kitten, you already know that I'm going to buy something. There's no need to push. Don't let's turn the boutique into a satiny den of lies.
I have worn this dress to a wedding, with a generic woven shawl around my shoulders. I wished I'd bought the little bolero, although it didn't fit quite right and it was a hundred dollars I didn't want to spend. It looked like Rowan's
Elspeth
. Hey, I have that Rowan book! And look at the luck. I have something like fifteen balls of Elann Peruvian Collection Baby Silk in this color. So that's next in the knit queue.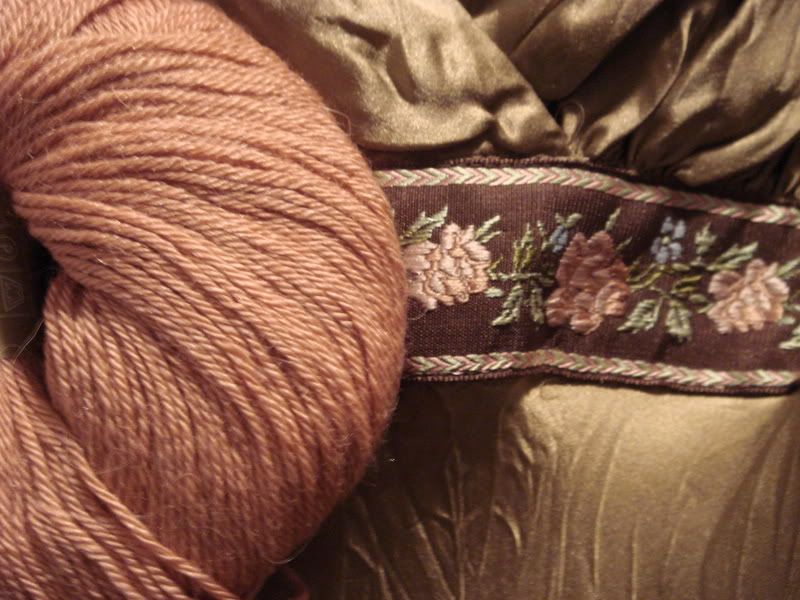 Resolutions: It's resolution time. I should move this over to the sidebar. Maybe next time.
Fitness: Going well. I'm doing much more cardio than I'm used to doing, and I'm almost to the point where I look forward to doing it. Sure, I still have to force myself to turn my car into the gym parking lot, but it's getting easier. I'm not expecting to see results yet, because I'm trying to be realistic about it, but I think I can already feel the difference.
Programming: Also going well. I'm in a learning groove, now that I've figured out how to read the dynamic help. My manager said, "When you get done with that program, you'll have to teach the rest of us how to do it." "Oh, haha haha! Too funny!" "Yeah, heh...but really. You're going to have to teach the rest of us. We don't know what we're doing."
Knit from Stash: I'm keeping with it...until Stitches at the end of February. Even at that, I think I'm going to be O.K. I dug through the yarn cave this weekend to find that salmon yarn, and fell in love with all of that stash yarn all over again.
Meet other knitters: Babies, I not only met other knitters, I managed to unite two separate knitting groups. More on that later in the week, once I've taken pictures. Suffice to say, I had a great time. I can't wait for tomorrow night.
Call/Write/E-mail: This is my worst performer so far, but I'm not giving up on it.
****
I took today off to catch up on sleep, and then to have one of my much loved "What the F&$K is THIS doing here?!" days. The "What the..." days are great. I get into this state of constant movement, roaming the house and doing things that have bugged me for weeks. I've mended a pair of pants, ironed the candle wax off of my hearth, cleaned out my car, washed my gym water bottle, did all of the laundry, stuff like that. It feels great. "blog" was one of the items on the list. Check! Ahhh...that's a good feeling.