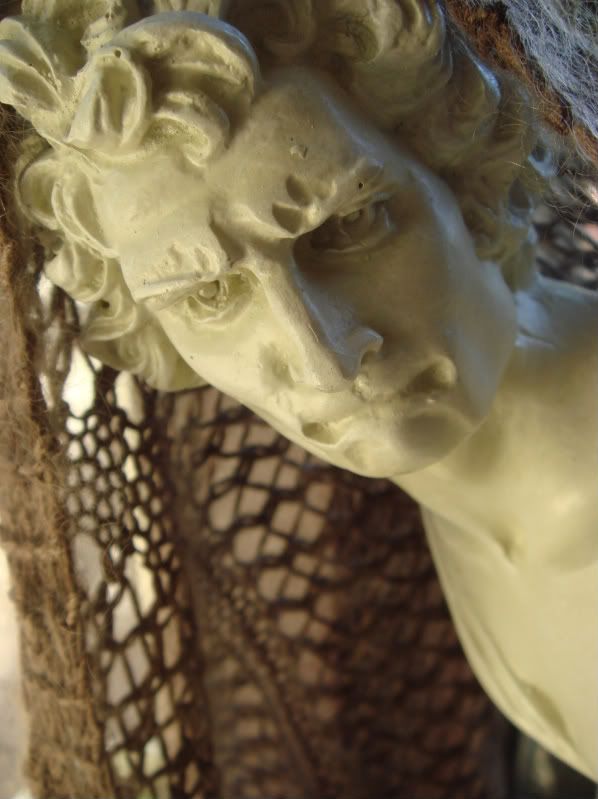 Until I can knit again - still some weeks off, if my friends, coworkers and well-meaning strangers are to be believed - I might as well pass the time by catching up on some earlier finished work. This lovely short scarf is...

Domina?

Yes, Bernini's David?

Domina, there are things afoot in the villa about which I, as your steadfast champion, need to be informed.

For example?

For example, what has happened to your lovely hands? What has damaged them so badly that you can no longer craft beautiful adornments for The David? Where you attacked by the pack of wolves?

Wolves? What are you talking about? David, there aren't any wolves here.

Aren't any wolves..oh, fairest lady! How I have failed you! Not only has that scoundrel of a husband allowed wolves to overrun the grounds while I remained anchored on this hateful pedestal, but the trauma has wiped the horror from your mind. Would that I could have stood between you and their slavering jaws. I turn from you in defeat and shame.



Have you gone insane, my stationary friend? I broke my finger in a motorcycle accident. You know that. I mean, yeah, I was on some powerful pain medicine after the surgery, but I'm pretty sure there weren't wolves roaming about the place.

But they were everywhere! Did you not...oh, accursed sound! I hear their diabolical howls. Hide! I beg you! Take shelter behind my muscular frame. I shall hold them off while you flee.

David, that's just Molly, whining and throwing her food bowl around because she's up in her kennel. Molly. You've met, remember? She drinks at the water di...majestic pool at your feet fifteen times a day.

Good lord! You have NAMED the beast?





Details
Pattern
Wisp from Knitty Summer 2007

Yarn
Artyarns Pearl Rhapsody (kind of like Silk Rhapsody, but better) in color 2268...I think. Molly ate the skein wrapper. I think it was 260 yards, and I have about a yard left.

Daisy bought this yarn on her cross-country trek home to Maine and sent it out to me. It languished in a basket for several months, and was at risk of being a Too Special to Ever Become Anything yarn. Readers, you know how I feel about TSEBA yarns. Something had to be done before it got any closer to the dreaded garage bin Vortex of Indecision. Yarns go in, and they never make it back out again. I went into my queue, picked the closest thing I could find, yardage-wise, and just started knitting.

Needles
Brittany Birch, size 8. In retrospect, this project would have been a lot easier with lace needles, or even the pointier tips of the Boye interchangeables, but the BBs weren't too bad. The yarn felt better on wooden needles, so I stuck with it.

Time
It was my lunchtime knitting, so I didn't really keep track. I finished it about two months ago, and I started it right after finishing the crochet throw.

Modifications
Only because I screwed up at the beginning and didn't do the setup rows right. The ends don't match, because one end has the support for the buttons and the other doesn't.

Conclusions
I liked this pattern. I think I'd like it a lot more if I were to knit it again with pointier needles. The finished scarflette/wrap/whatever is shorter than I usually like regular scarves to be, but then again, it's not supposed to be a full-length scarf.

I can see wearing it as a cowl once I find the right buttons for it. It'll look stylish and sophisticated while I'm driving down the road in the follow car, trailing behind all of my motorcycling loved ones. But that is a story for another day, when I can stand to type for a bit longer. My left hand is about to give out, and I can feel the pins moving around under the dressing on my pinkie. It's creepy, actually. I'm going to wrap this up and stop moving for a while.



Yes, Domina! Be still, in the name of all that is holy! There is danger in the wind. Can you not detect its menacing miasma?

David, for God's sake, there aren't wolves in the house. That's the smell of the pan from last night's dinner. It's garlic. We're perfectly safe.

Hush, noble lady. They are watching...