"Dmmmmunnuhphhh?"

Yes, Bernini's David?

"Whhhphh phnuey iph thph ahbuhmuh mphcuhluh phuhm?"

What finery is...what?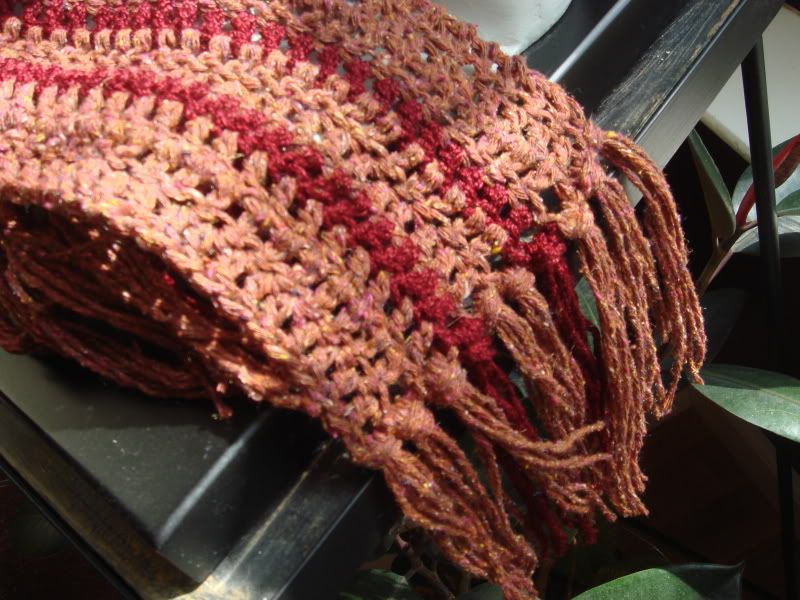 "Ahbuhmuh mphcuhluh phuhm?"

About your miniscule fume? What are you talking about?

"Ah. BUH. Muh. Mphculuh. PHUHM!"

Man, I can't understand a word your saying. Let's talk about the scarf. It's a catch-up Finished Object post from earlier this year. By the way, you look quite handsome wrapped up in it.



Details
Yarn
Elsebeth Lavold Silky Tweed - two skeins and
Berroco Softwist - one skein

I bought the Silky Tweed a few years ago from Webs, back when it was being cleared out. I'd intended to buy more of it if I ended up liking it, but never got around to it. The Softwist was left over from the Two-Tone Shrug I made a couple of years ago. The Silky Tweed ended up in one of those Lantern Moon small project bags, which I kept shifting around to different spots in my house. When it came time to put the leftover Softwist away, I shoved it into the bag as well. They looked good together, so I figured that they should stay that way. As it wasn't enough to make a full garment, I spent the next couple of years planning to buy more Softwist. It became a Too Special to Ever Become Anything (TSEBA) yarn.

Pattern/Design Thoughts
I tried a few motifs, and I thought about making granny squares with it, but nothing seemed right. I finally got frustrated with my inability to decide, and just started double-crocheting. I winged it from there, thought about making the various stripes thicker or thinner, but ultimately came up with this pattern.

Hook
Brittany Birch, size F

Time
I packed that little embroidered sack of yarn into my laptop bag and took it with me on a business trip to Nebraska. I started crocheting it when the plane was over Nevada, worked on it in my hotel room that week, and finished it up right before crossing back into Nevada from the other direction. May 9th through 14th 2010.

Conclusion
I love how this came out, and that the yarn isn't sitting in TSEBA-ville. For a while, I was worried that it looked a little like vegetarian bacon, but I've made peace with it. I've worn this one a few times, and I'm happy with how it's holding its shape. Good scarf, nice body, good form...

...oh! About your muscular form?

"Yepphhh!"

Don't talk with your mouth full.