Ugh, readers. Just ugh.

I tried to get a good picture of myself in this skirt, but through no fault of either my knitting, the pattern or the yarn, every one of them looks like I'm about four months pregnant, or, more likely, like I'm trying to smuggle contraband into the country under a pregnancy pillow. As I am neither with child nor a drug mule, this is not a comparison I want to make when I see pictures of myself. But there it is. These four might not look that bad, but bear in mind that they're the very best ones I took, I'm sucking in my midsection mightily in them, and anywhere that you see a fold in the sweater, assume that there's an equally deep fold of me underneath it.

Yes, I know the solution is to exercise more, and I'll be able to do that more regularly once my office moves back down near my old gym. That doesn't fix today's pictures, or the few from this weekend where I thought, "Oh, that's just a bad angle making my shoulder look beefy. And that's a bad angle making my waist look thick. And that's a bad angle giving me jowls." The photos from this weekend had more 'bad angles' than a remedial geometry class, and I hate them so much that I don't even want to share them.



I know, however, that if we wait until I feel lean and tight enough to properly model this skirt, we could be waiting a good while, and I don't want to have yet another finished item go undocumented and, in all likelihood, unworn until then. This is me right now, and this is how I look in my new skirt, so I'm going to face it and move forward.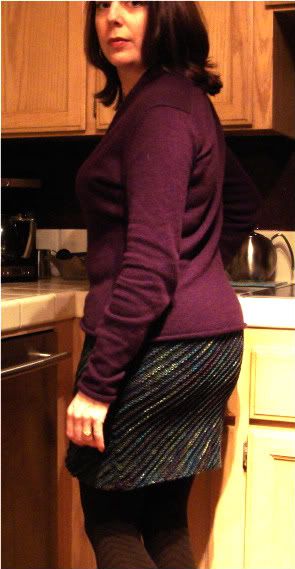 Details
Pattern
Lanesplitter by Tina Whitmore, Knitty First Fall 2010 (Ravelry Link)

I picked it because it's like nothing I've knit before. I don't usually think to wear skirts, much less knit skirts, but I'd like to start. Also, I figured I could get it knit with less than one of my many not-quite-sweater-length skeins of Interlacements worsted.

Size
16" long, 36" hip circumference. This gives me about two inches of negative ease at the hip. I went with a shorter length because I have fairly short legs.

Yarn
Interlacements Dyer's Choice (Oregon Worsted Stripe in a non-standard colorway), Knitpicks Shadow in Lost Lake, and Cascade 220 Superwash. I used exactly one skein of Shadow, which I carried along with the Interlacements to thicken it up slightly, so the skirt totalled about 440 yards. I used about fifteen yards of Cascade 220 Superwash for the waistband.

The worsted on its own was a little too bright, but the carryalong yarn muted it just enough to make it look rich and tweedy. I'm glad Accountant Boy weighed in while I was picking between Lost Lake and Vineyard. It would have been a very different look if I'd carried along a wine-colored yarn.

Needles
Addi Clicks - size 8. I love these needles.

Time
October 19th through November 11th, 2010.

Modifications
I made it shorter than the pattern, which was really easy to do. I only used one skein of yarn, since Interlacements color repeats are so much shorter than Noro. I crocheted a waistband instead of folding one over elastic. I figure this way it'll be adjustable if I decide to take it in later. I can unravel the superwash crochet rows and redo it.

Conclusion
I love this skirt. I loved watching the colors shift along the rows as I knit, and the squishy feel of the work as it grew longer. I used some stash yarn and it came out exactly as I hoped it would. I'll probably make this pattern again.

Just as soon as I lose a few pounds.