So what were the answers to last week's Tease post? What in the blue blazes was I talking about?

1. Long drive - the arduous journey to Tulare to work the bar at the Historical Museum's 25th Anniversary celebration. Accountant Boy hurt his back bowling with me last weekend, which made three hours each way in the car especially unpleasant. The theme of the event was 'Night at the Museum' which meant that...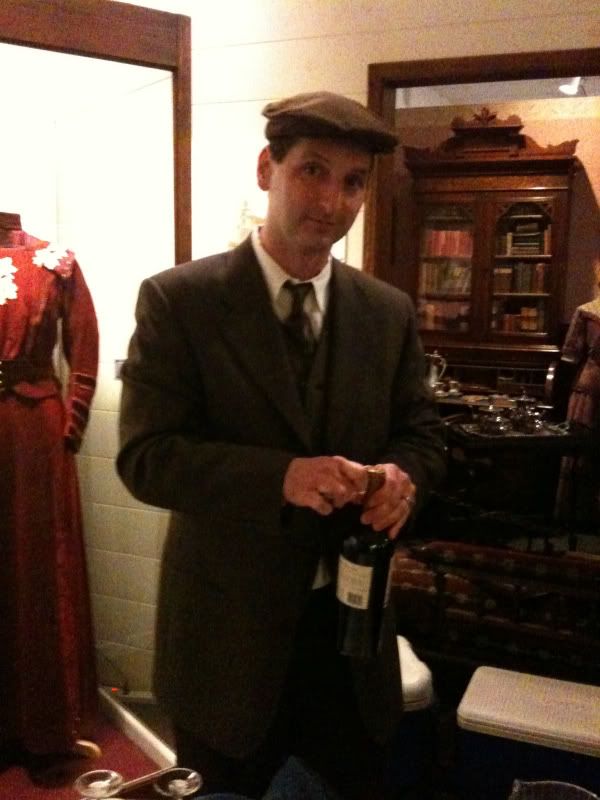 2. We had to dress like people from Days of Yore, come to life just for the party. We went with 1920s, since we couldn't get a clear timeframe for when Tulare's infamous Front Street district was at its peak. While Accountant Boy already had a vest and a snap-brim cap from a themed party several years ago, I had nothing in my closet that fit. (I buy dresses for weddings, and usually exercise like crazy leading up to the events, so I'm normally about a dress size larger than anything on the fancy side of my closet.)

When my mom informed me that my hips were too big for anything in their collection, I started worrying about what I was going to wear. It consumed my thoughts for several days. Then I remembered one of the tenets of my new creed - "I'm done with all that."

What does that mean to me? It means that I can keep worrying about something and make myself sick over it, or I can just get rid of the thing I'm worrying about. A few weeks ago, I had this great revelation about my fishtank. I haven't enjoyed fishkeeping in years, but we still had a tank, and I still worried about the fish in it, fretted because I didn't make time to change the water, cringed every time I walked past it. I came in from the yard one day, looked at the tank and said, "I'm done with all that. Why am I stressed about three fish and a bunch of plants?" I called the girl across the street over. "Ash, you have fish, right? Take my fish and put them in your tank. There's nothing wrong with them, but I'm tired of owning them." We scooped up the fish, pulled up all of the plants, carried all of them across the street and put them into their new home. I came back, tore down the tank and the stand and hauled it out to the garage, steam-cleaned the carpet where it had stood so that there wouldn't be dents, and was done with it. It felt so good to not worry about that one thing anymore. A.B. didn't even notice it was gone for three days.

So, worrying about my costume to the point that I was having a hard time working, I finally snapped and said, "I'm done worrying about all of this. I'll go buy a dress right now and then I can stop thinking about it." I bought this one. Not cheap, but at least it was authentic, not that cheesy all-fringe look you get from Halloween costume flapper dresses. I researched finger waves, then went for the easier solution of buying a waving iron. I felt really good about my decisive, successful moves toward a solution.



And then my mom said that it'd be better if I dressed like Miss Kitty from Gunsmoke.

3. Gland expressing - oh, don't make me tell you about this. I don't know what I was thinking even bringing it up.

4. A trip to the butter factory - this one, the most straightforward of my tease topics because it's exactly what it seems to be, did not happen. My oldest brother, Big Guy, works for a dairy processing plant. He's the mechanic in the butter room, keeping all of the packaging machines running. For years now, he's been trying to take me on a tour of Butter, but we never manage to make it work. This was the weeks' greatest disappointment for me. I love factory tours, and I know he's proud of his work and wants to show me around. Next time, I hope.