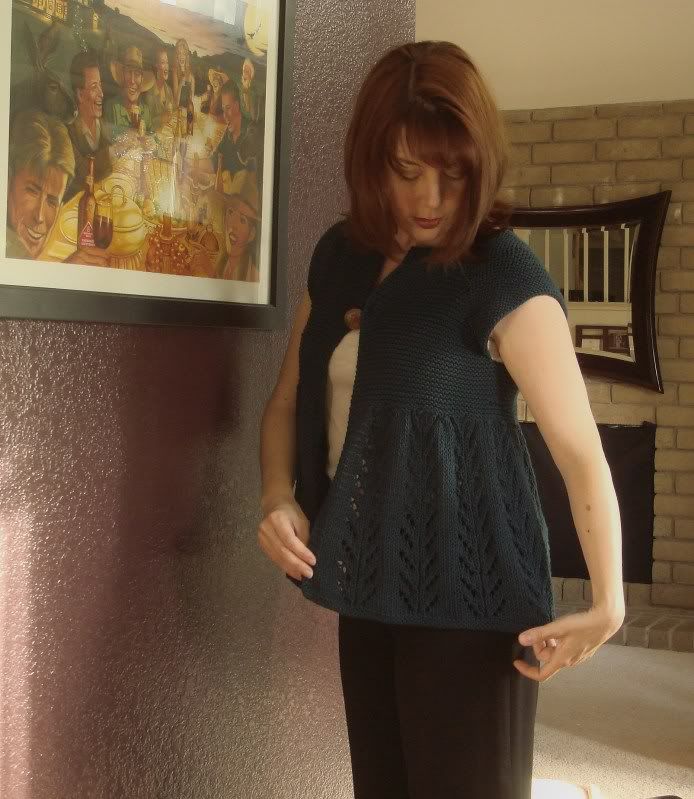 I used to have a real problem. A yarn problem. A yarn buying problem.

When I first started knitting, I was naive. I didn't understand what 'closeout' really meant. If a yarn was marked as a closeout, and I thought I might even remotely like it, I bought all of it that I could find. Sure, I know now that closeout yarns might hang around for years, or might simply be colors closing out, not the yarn itself. Now I know the difference between a closeout and a yarn that had truly been discontinued. I didn't know back then.

The problem with this is that I also tend to go overboard. I'd buy all of the "can't ever have it again" yarn at a store, brick-and-mortar or online, then go look for more of it at a different store. I'd buy as much as I could, then agonize about what wasn't in my cart. I ended up with a lot of yarn this way, yarn that I still haven't used.

I had four or five websites that I'd visit every morning, seeing what was on sale, seeing what was running low that I might miss out on having. I'd usually buy something, and usually not just a ball or two of it. What if I couldn't get more of it? I needed enough to make...oh, whatever I might someday decide to make, and I needed to know that I wasn't going to run out.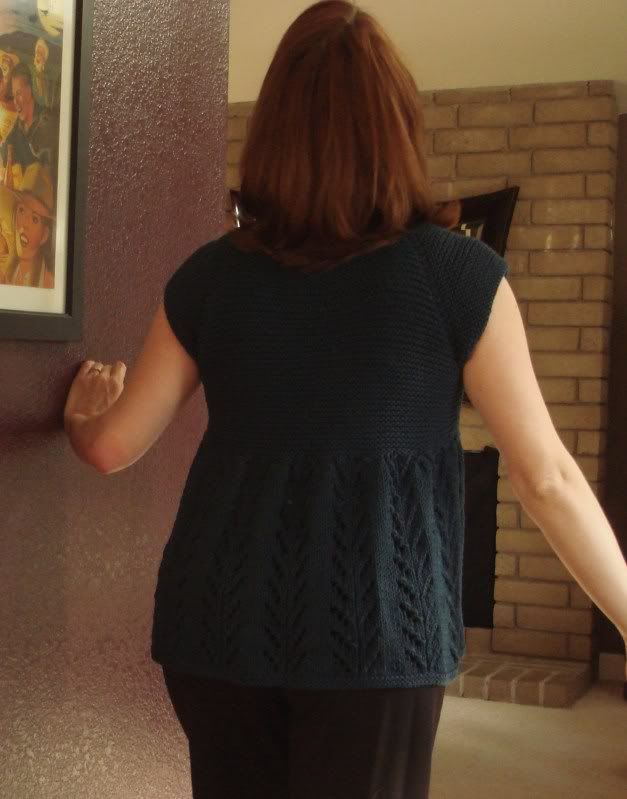 Stitches was the worst thing in the world for me, especially back in those days. Not only was I surrounded by huge displays of yarn, but I was also seeing yarns that I was sure could not be had anywhere else. Most places have websites now, but back then it was a once-in-a-year opportunity. You went to Stitches and you stocked up on rare, exquisite things. I still haven't forgotten the one thing I didn't buy several years ago, the short skein of fingering-weight camel that came with the name of the man who'd shorn the animal and spun the fiber. It was eco-friendly, and artisanal, and eclectic. What was I going to do with a $200 75-yard skein of camel? No clue, but the IDEA of it seemed so delightful that I'm still - six years later - thinking about it. I don't think I'd buy it now, but the emotion involved with not buying it then is still almost as strong as it was when I was pacing in front of the table with the skein in my hand, agonizing over my decision.

Daisy and I both fell prey to that mentality. I once made it sound like we were more in control than we were, but the reality is that we enabled each other, and neither of us ever saw the full scope of the other's problem. My yarn went into the yarn cave, hers into boxes in the attic, baskets on high shelves, bags in the closet, or crates in the garage. It wasn't until I moved and consolidated my stash into my garage that I saw just what I'd done. I should haul it all out into the center of the garage and take a picture of it.

I'm still not sure that Daisy knows what yarn she has. She sent me a couple of balls this summer with a note that said "1986 called. It wants its scarf back." They might be that old. We thought we'd seen all of it when she was packing, but new skeins and half-finished projects keep wiggling to the surface. Some of it, like "1986" and the yarn for this project, transferred over to my stash. Some of it was moldy and, with great reluctance and difficulty, she threw it away. Most of it went back with her.

We both watch Hoarders, text each other sometimes when it's on. We both recognize ourselves in some of the episodes. "I might use that someday. It's still good, once you unwind the outside part. I can rinse out the smell. I bought that when (x) happened. It reminds me of the time we..."




There came a point not too long ago when I realized that it really was a problem. I'd order yarn, race home to get to the boxes before Accountant Boy saw them, empty out the yarn, catalog it, shove it in one of the overly full bins, break down the packaging and shove it in the recycling can before he could see it. Sometimes I'd tear the shipping label into little bits and throw kitchen scraps on it so that it wouldn't be legible. The day that I actually CREATED kitchen scraps to hide a shipping label, I knew I'd gone too far and had to stop.

I've been knitting from my stash since then, digging in and pulling stuff out to knit without regard for any special plans I may have thought I had for it. I don't visit any of the big websites anymore, and I only skim the catalogs for ideas before throwing them in the recycling. I bought a few balls of camel/merino at Tuesday Morning the other day when I was in a bad mood, but for the most part it's been going pretty well.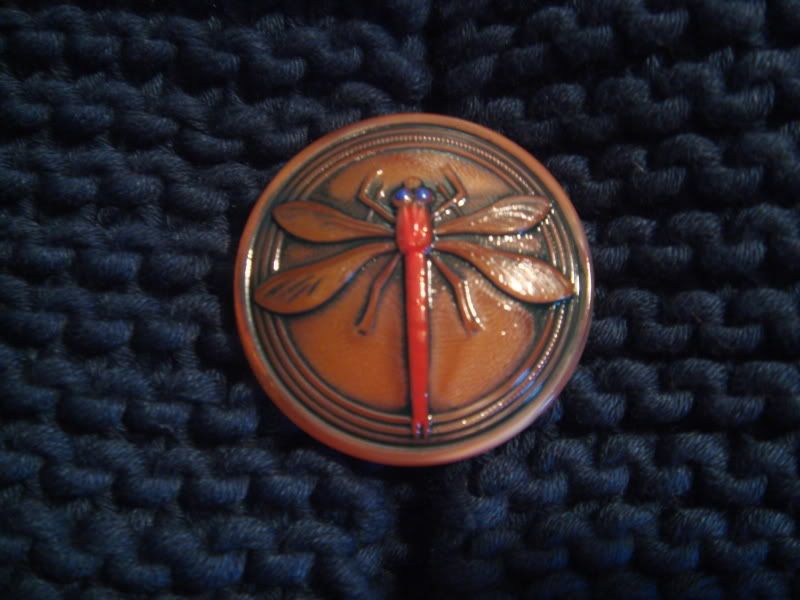 Details
Pattern
Juliet by Sarah Johnson (Ravelry Link Here)
Size
Knit as a large, but my gauge was tight, so it's actually a smallish medium

Yarn
Jo Sharp Desert Garden Aran in teal. I used 555 grams of the stuff, which is just slightly more than 11 skeins. I have two more of them left.

Daisy bought this yarn at Stitches in 2004. I remember standing next to her at the Webs booth when she was looking at it. I'd never seen that much yarn in one place. It was exciting. Anyway, she gave it to me a couple of years ago, and I spent some time trying to figure out the perfect project for it, because, you guessed it, it's not available anymore. It finally became Juliet because I needed an easy, quick project to get me knitting again after this summer's finger madness. Little did I know that I'd turn it into a three-month endurance event.

Needles/Notions
Addi Clicks, size 8 the whole way through.

I found the button at a bead store with Daisy a couple of years ago, after she'd pushed this yarn off on me. I bought the button specifically to go with this yarn.

Time
Early August to mid-October. I know that I didn't get to the lace until about October 1st, because I was in Atlanta when I hit that part. In a funny twist, I knit the last couple of inches of garter while watching Hoarders in my hotel room.

Modifications
I knit the large because my gauge was tighter than was called for. I pretty much followed the pattern, except for adding a set of 3-6-9 short rows at the back so that the garter line wouldn't ride up. I went for nine lace repeats so that it'd be an inch or so below the bottom of any belt that I'd wear.

Conclusion
It's a cute top, but the bulky garter stitch makes my upper body look bigger than it is, and I don't need help in that area. I need to remember that I don't like this bodice style. I would have liked this even more if it'd been stockinette on the top.

The body has a nice swing to it, and I'm pleasantly surprised by the way the pleats are staying in place. I wasn't expecting either of those things, and don't think it'd drape like this if it were wool.

All in all, it's a winner.