"That sweater is so '70s!"

I don't remember which of them said it, Daisy or The Wolf's girlfriend, but that what what was exclaimed when I pulled out the pattern for this sweater.



"Actually, it's from 1984, not the '70s," I replied defensively. "I think it's going to look cute, and not in a retro, half-mocking, 'look how self-assuredly I wear these completely dated clothes because I am unconventional' way."

"Oh my God, it IS totally '70s!" That would almost certainly have come from The Wolf's girl, because I remember being inwardly annoyed about it, as she wasn't even born yet, being at most only a year older than my pattern leaflet. What did she know about anything before the smothering flannel waves of the grunge movement?

There wasn't much point in discussing it with Daisy, as she has a degree from Parsons and did some fashion drawing while she was there, so she'd know a little more about it than I would. She was at Parsons while I was in high school. I remember my wardrobe from back then - stirrup pants, coordinating knee-length sweaters, spiral perm - and those memories are strong enough to remind me that I have no place telling anyone else anything about fashion.

"Well, anyway, I'm giving it a go, so..." My sentence trailed off into dead air as I walked away, but it continued on in my mind. "...so I guess we'll just see who's making disco jokes when it's done. This is going to be a great, timeless sweater."



I feel protective of this pattern. We've traveled a long road together. Way back in 1993, when I was in school at Santa Barbara, I signed up for a knitting class. Our first projects weren't scarves or hats. No, our instructor, who may or may not have taught beginning knitters before, suggested that we dive right into sweaters if sweaters were what we wanted to make. Knowing what I know now, I'd probably have recommended at least one rectangular scarf.

Anyway, my first sweater was going to be a seafoam green turtleneck. I bought a Patons booklet with several variations of very basic sweaters, and enough seafoam green yarn to make my first knitted garment. The problem with this was that the patterns were all designed for DK-weight yarn, and there was something like three inches of ribbing at the lower hem. I don't know if you remember your very first knitting project, or how slow you were in the beginning, but I remember how slow I was. Five classes in, I was still knitting that ribbing while the other students were learning how to seam. Every Thursday night, I sat at the little round table at the back of In Stitches and fell further and further behind. Everyone else laughed and had a good time while I concentrated on the same section of ribbing with my tiny needles. I felt like crying.

The instructor noticed my distress during the sixth week and suggested that I pick out a different project that would use bigger needles. That project was Crystal Palace '206 - Alexandra'. Not surprisingly, they didn't have the yarn called for in the pattern. For all I know it had been discontinued in 1985. To this day, I've never found any information about it. She looked at the pattern gauge and picked a substitute based on stitch count. Here's why I think she might not have been all that experienced. She picked Lambs Pride Bulky. Like I said, I don't know anything about Alexandra, but I'd bet that it's probably more of a lofty worsted or aran weight than truly bulky. But the pattern said 3.5 stitches per inch, so that's what we grabbed out of the bins, nine skeins of Lamb's Pride Bulky in a color of blue that they don't make anymore, but was somewhat akin to Grover from Sesame Street. I dove happily into my new project.



I didn't finish before the end of the class, and because money was tight for us as college students, I didn't sign up for the next round. I finished it on my own a few months later, and the results were predictably bad. I didn't know how to seam, barely remembered how to bind off, and didn't know thing one about wool care. When the sweater was finished, I was able to stand it up on the counter without anything inside it. It was as dense as plate armor. "Maybe if I wash it in hot water it'll loosen up..." You can guess at what happened next.

I didn't knit again for a long time. In 2002, while on a trip to JoAnn's to buy fabric for a cushion, I picked up a skein of green yarn from a bargain bin. I only remembered how to do a long-tail cast on and how to knit, not purl. I cast on and knit until I ran out of yarn, and Daisy had to show me how to bind off. I still have that scarf, the green Lion Brand Homespun scarf. That simple rectangle, and seeing the things that Daisy was able to do with her knitting, really started me on it. I taught myself everything beyond casting on, knitting and purling from reading Stitch N' Bitch. If you ask me how long I've been knitting, I'll say six years, but really it's more like fifteen with a long break in the middle.

I still have the Paton's booklet with the turtleneck, v-neck and crew neck pullovers and cardigans. They're hideous by today's standards, clearly out of date. You wouldn't think such a thing is possible for something so simple, but if I'd taken a picture of that pattern booklet, you'd see that I'm right. Two years ago, the seafoam yarn became Bristow.

I kept the blue monstrosity around until a couple of years ago, when I finally steeled my nerve enough to throw it out. I wish I still had that sweater, because it'd be fun to compare it to this one. Maybe it's better this way.



Details
Pattern
Crystal Palace Yarns '206 - Alexandra'. This pattern was published in 1984. I purchased it in 1993. It was the second knitting pattern I ever purchased.

Size
37" (small) to fit my bust at approximately 35" without padding. If I assume that the stitches relaxed by a quarter-stitch per inch, that makes this sweater about 40" at the bust, which is probably about right based on how it's fitting right now. If I'd wanted it to fit the way it does on the model, I'd probably have needed to knit the large. And I'd need to be the size of a petite wood sprite. Look at how big the arms are, even at her wrists.

Yarn
Bouton d'Or Dandy in Cordouan, 70% wool/30% silk, knit at 3.5 st/in. It's relaxed to about 3.25 st/in after wearing it for a few hours, which has given it an even nicer drape and a little bit of fuzziness.

I got this yarn from the clearance bin at Fashion Knit. I really like it, which can only mean that it's been discontinued.

Needles
Brittany Birch 6 US for the ribbing, 9 US for the body. Addi Turbo 16" circular, size 10 US for the neck. The Addi being slightly smaller than a standard size 10 and my gauge being tighter in the round evened everything out. There's no noticeable difference in size between the body and the cowl ribbings.

Time
October 19 to November 1st. I was aiming for a week, but two weeks still isn't bad. I don't think I could have done it much faster. The sixteen inches of cowl ribbing made me feel like I was knitting an entire second sweater body.



Modifications
I tried really hard to knit this exactly to pattern - no knitting in the round to avoid seams, no changing the drop sleeves to set-in or raglan, no getting rid of some of the yoke ribbing. I don't know what put that idea into my head. I guess I thought it'd be fun to reknit this sweater now and see if the original pattern would hold up over time.

I did make a couple of changes. I went all the way out to the shoulders with the ribbing stair-steps at the yoke because I remembered the way my original sweater looked with only the few columns of ribbing going up to the neck. It looked like an ant poison stake. Didn't want a repeat of that visual. Have I mentioned that ant stakes are scented with chemicals that smell like peanut butter to insects and small animals? Have I also mentioned that Winston is especially fond of peanut butter and of chewing plastic? As it turns out, the newer, safer ant stakes aren't all that toxic to larger dogs or to people, so he suffered no ill effects from crunching down on the stake and licking out the gooey insides. But ribbing that might remind me of an ant stake every time I look in the mirror? Let's not.

I shortened the body by two inches, which was easy to do as the two pieces are shapeless rectangles. I simply started the yoke ribbing sooner. Finally, because I thought seaming the length of a cowl neck would be difficult and make the cowl unattractive, I knit that in the round.

Conclusion
I'm really happy with it, even though it doesn't look quite like the picture on the leaflet. I like that the cowl's smaller, almost like a really relaxed turtleneck. I honestly don't know how they got it to look like it did on the model. In addition to being allover tiny, she must have had a very, very slender neck.



I used up another 850 yards from my stash, and now I know how far 850 yards of aran weight yarn will go. There's a lot of yarn still out there in the garage. I need these benchmark projects to figure out what I can do with it. In fact, I have another twelve hundred yards of this yarn in a darker color, and two skeins in a toffee shade. Now I know that it's enough to make a roomy pullover with a 16" ribbed cowl.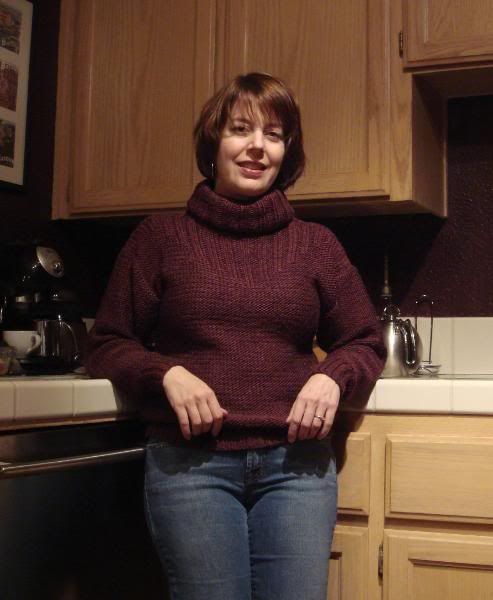 I love this sweater. I kind of still wish I had the more drapey, twelve-inches-of-positive-ease sweater from the leaflet, but not enough to turn around and knit it again right away. When I do make another one, I'll knit more of it in the round and maybe, maybe set in the sleeves and switch to much bigger needles for the cowl. I don't know, though. Maybe I'd do it just like this one. It came out alright without all of that. I don't think I'll look back in twenty years and say, "Can you believe what we were wearing back then? Oh my God, it's SO 2008!"