Quick! I have to make a decision and I have to make it soon-ish. I own this dress. Bought it at a consignment store for forty bucks, because really? Two hundred and fifty smackers for this thing, Betsey?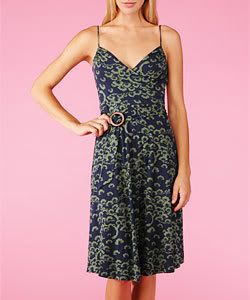 I have this yarn, about six hundred yards of the Anny Blatt Victoria, and a thousand of the Bouton d'Or Dandy. This is the other color I was talking about in the Alexandra posts, the raisin color.



I'm going to a wedding next weekend in Tulare, a place not necessarily known for its mild, spaghetti-strap suitable climate in mid-November. I realized this weekend that I would be unable to find and buy anything that would go with this dress in the stores, because it's kind of an odd color and I've kind of blown my clothing budget for the next six months on some basics at Ann Taylor Loft. Also, as the dress was only forty bucks, it seems silly to spend more than that in time and money for an accessory to wear with it. I subsequently realized that I have two yarns that match perfectly with the dress. I then realized that I had less than a week to decide what to make and knit it. I need help!

Here are the things to consider:

- I do NOT look like the model. When I gain weight, even a pound, I thicken up around the middle first. Not saying that I wouldn't want or wear a cropped sweater, but it's something to keep in mind.

- Accountant Boy and I are the photographers at the wedding. This may play into the decision between shawl and shrug/sweater. It might be awkward with the constant readjusting.

- I have four days to do whatever I'm going to do. During the drive to Tulare, I'm going to be sitting in the back seat with Winston, who gets carsick if the road isn't completely straight and smooth. I will not be able to knit on the drive. Sure, I've done this kind of close timing thing before, but I'd rather not do it again.

My choices are:

- Swamp Witch - I think I could knock this out in an evening or two. It'd be a skein or two of Dandy and Victoria knit together on big needles. It wouldn't be as bulky as the one pictured. I could, decide at a point during the knitting to bind it off, sew up the sides and make it a shrug, or knit it full-length and put some buttons along one side so that it'd be convertible. I saw a pattern like that a few days ago and thought it was brilliant. This is, therefore, the most flexible option.

- Carie Cropped Cardigan from Fitted Knits (Ravelry Link) - I like the neck shaping, and I'd be willing to spare the two or three hundred yards of Dandy to make it. On the other hand, it's going to pull in and button right where I don't need a button if I want to avoid having people ask if I'm pregnant. (It's the curse of the thick-middled petite gal, that question. My usual response is, "No! And by the way, f&$k YOU!", but I don't think that'd be appropriate at my oldest friend's wedding.) I could modify the lower band so that it was more flattering, maybe have it cut away instead of fastening.

- Anthropologie-Inspired Capelet - I've always liked it, and my attempt to make a smaller-gauge version earlier this summer wasn't a complete failure, although I never actually wear it because, well, see constant whining above re: my torso. This is my least likely choice, because the way the fronts slant down and away toward the widest point of my chest, but it'd also be the fastest, so it's in the running.

I need to decide in the next couple of hours, because I want to cast on at lunch. Help!