Suzanne and Suzanne: A Conversation

Suzanne1: "Suzanne? Don't you want to show off your pretty, new sweater to the bloggy world?"

Suzanne2: "No."

S1: "You worked really hard on it, and it turned out so well. Don't you want people to see? It might be fun..."

S2 wrinkles lower lip and stares at S1.


S1: "Well, what about the Tilly Thomas yarn, and the couple of inches of progress you've made on the SKB? You could tell the story of how you had to stop knitting for a week because you almost cut off your fingertip."

S2 pouts.

S1: "You had all sorts of funny things to say when you left work. Everybody likes your stories. Why don't you tell everyone about your weekend?"

S2: "No."

S1: "You could do one of your blog stalk assignments. You're behind, but it's not too late to catch up."

S2 walks into next room and sits down in front of television.

S1: "Maybe you could go to the gym? You like the gym, remember?"

S2 scans the channels, finds 'Die Hard' on Starz.

S1: "Okay, then. Maybe tomorrow."

When I was a little girl, I was a phenomenal sulker, and incredibly stubborn. When I was four, maybe five years old, my mother told me to go clean the floor of my room, which was almost always covered with so many toys and books that it wasn't navigable. "Why don't you go straighten up your room?" I stared up at her. "Don't you want your room to be clean?" Stared some more. "Go clean your room." Continued to stare. I couldn't have been more than three feet tall, but I tilted my head back and glared at her as best as I could. It went on for several minutes, but I'm sure that both of us felt like it was hours. "Now!"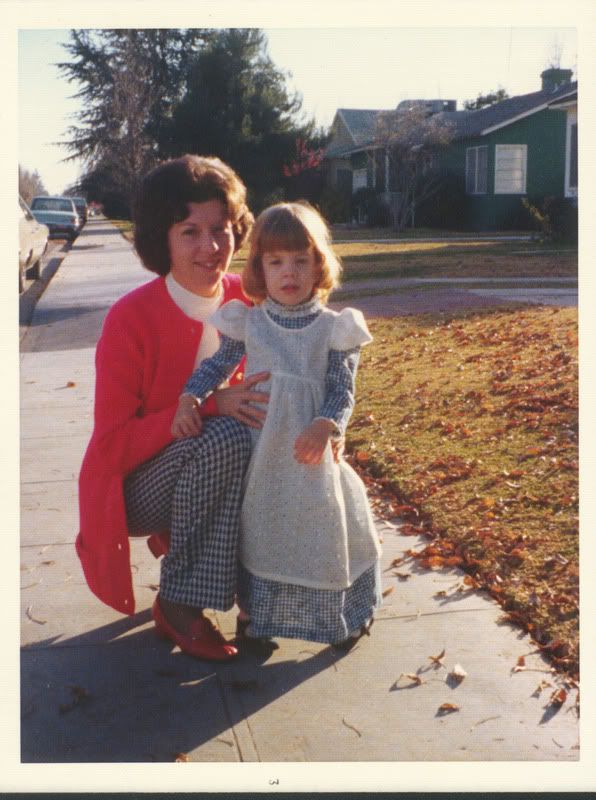 I finally broke her, I guess, because she reached down and smacked me on the thigh. It wasn't a hard slap, just sharp enough to not be mistaken for a light push in the direction of the messy room. It was the first time she had ever struck me, and the only time. I turned on my heel and marched into my room, closing the door behind me. When she came in to tell me that dinner was ready, five hours later, I was sitting in a tiny clearing on the floor, having not touched a single item around me except to push it aside to make room for myself. Night had fallen, but I wasn't tall enough to reach the light switch without the aid of my trusty rubber kitchen spatula, and I didn't have the spatula with me when I stomped away from her, so I was sitting on the cold linoleum in the dark. I would have stayed there all night just to prove my point.
I'm not sure what my point was, maybe that I wouldn't relent, even if relenting was the right choice, the choice that would make me happy. I would have been happy to have my room clean, to be able to find all of my books, to not be sitting in the dark in a room that I was convinced was haunted by shadowy creatures that crept in through the crawl space in my closet floor. I would have been happy if I'd just taken her up on her suggestion. I don't know why I didn't do that.

The problem is that now that I'm an adult, I have those same conversations with myself. Why haven't I been keeping up with the blogging? Why am I not going to the gym? Why am I spending days avoiding tasks at work that would take me five minutes to complete, that would make me so happy if they were finished?

"Why don't you..."

"...because you want me to."

Here's a little clearer picture of the sweater above. It's Licorice Whip from BlueAlvarez. I had a great time knitting it for a while, then I got tired of knitting with the Rowan Cotton Rope, and then I had a horrible time knitting it. I went through 14 balls of Cotton Rope, which I think amounts to about 900 yards. It was going to be the XXS, but I made it a little broader. It measures out to be more like the XS. After seeing KnottyGnome's version, I thought I'd like mine to be a little bit cropped. I'm glad I did that.

This was a fun knit, and I'd like to do it again, but next time in wool, or at least a springier yarn. Those cross-stitches are a bitch in aran cotton.
Oh, and in that first picture, it's not the sweater that's making me frown. I'm just in that mood. The sweater is really comfortable, and I've worn it on three of the four days since completing it. I do, however, wish I'd taken a second to pull the hem down so it didn't bunch up at my armpits.