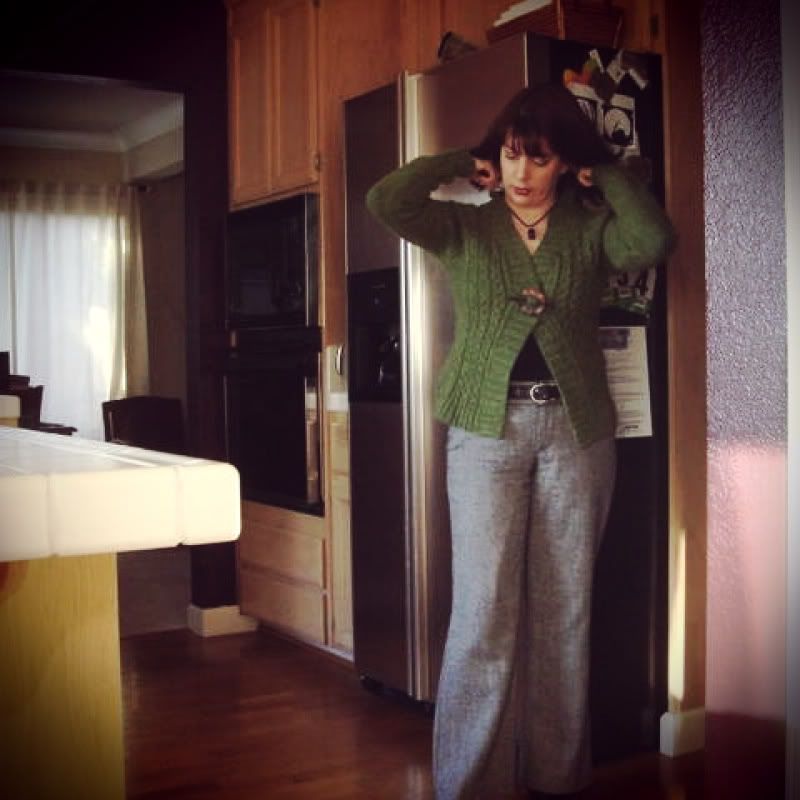 It's Thursday, which means it's time for my newest feature...

What the Hell are you WEARING?
Yes, I know "'What the Hell are you WEARING?' Wednesday" has more of a ring to it, but today's not Wednesday, and I'm not going to backdate this post to make it seem like I wrote it on Wednesday, so let's move on.

Sweater
Forestry by Veronik Avery, knit in Berroco Ultra Alpaca in Irwyn Green. I've loved this sweater since the day it came off the needles a year and a half ago. The alpaca halo obscures the cables a bit, but I don't mind it. It sheds like crazy, so I can only put it over tops that I plan on washing, lest people think that I've been groped by Kermit the Frog.

Top
Banana Republic super-soft scarf tee, this season. I loved this top in the photos, but in practice it seems kind of, well, stupid. It's a long-sleeved tee with a little snap at the back neck, and a big rectangle of the same material with its own snap, and you can snap the scarf onto the tee and look like you've got a bulky bunch of jersey wrapped around your neck. Why? Why not just wear an actual scarf? The neckline is a wide scoop, perfect for showing off jewelry, and it makes a nice undershirt, which is really why I bought it. Maybe I'll use the 'scarf' to line a hat or something.

Trousers
Old Navy, this season. Reviewers complained that the lining in these trousers was too noisy, and many of them have cut the lining out entirely to get rid of the problem. This causes a new problem, as the wool is incredibly rough, and the friction of it rubbing against leg stubble might be powerful enough to start a forest fire. I'd have preferred the lining to the scratches. Funny story, though. My dry cleaner/tailor decided that, in addition to simply being hemmed, these slacks would be great with a Bermuda-length lining. No, I don't understand the rationale behind it, and no, I did not ask for it, but now the lining stops just above my knees. And it's noisy, like I'm walking around with a parachute wrapped around each thigh. And my calves itch. Maybe sometimes it's worth paying more than fifteen dollars for a pair of pants.



Necklace
Glass bead that I bought at a craft fair a few years ago, tied around my neck with a leather thong. I've tried to fancy it up in the past, but it doesn't look right on a chain, and it gets lost on a string of beads. When this bit of cord wears out, I'll put it on another one.

Shoes
Clarks Artisan heeled loafers, this season.

The Verdict
I like this outfit, but it's not my all-time favorite combination. The pants are a little too light next to the cardigan, not enough contrast. The fronts meet the front of the pants at a wide point, which makes me feel as though I look bloated. The tee exposes about an inch too much skin at the left and right edges, and my collarbone itches from rubbing right up against the wool of the cardigan. The cardigan collar flares out wide around the neck as well, which means that my hair keeps getting stuck under it. That's what's happening in the first photo. It's happened roughly fifty times today.

Lessons Learned
1. Don't wear these pants with this cardigan. It'll lead to a day of unsatisfying tugging and smoothing, followed by me complaining that I'm too busty, followed by many of my friends telling me to shut the Hell up.

2. Buy a sewing machine so that I can hem my own clothes, because my dry cleaner/tailor has gone insane. Seriously? Above-the-knee lining? Is that even a thing?

3. Carry hair elastics. Possibly get a haircut. I've been watching my hair change in the pictures over the last couple of months, and I've had this brilliant revelation about it. It might, just might, require periodic maintenance.