Let's do this.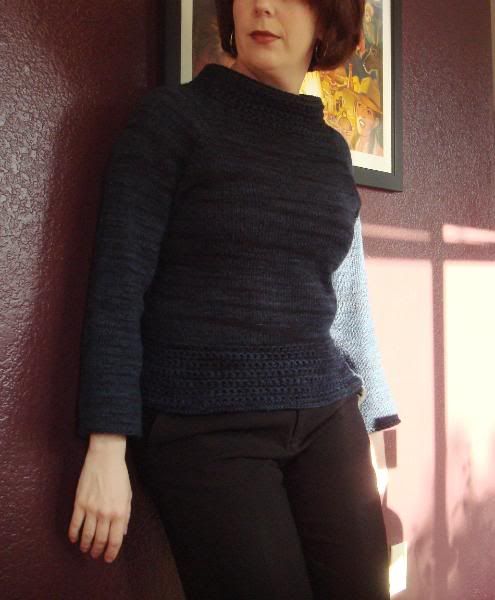 Ingenue!



I was going to have this post revolve around a theme, that theme being "What Suzanne Does All Day", but that's all changing. We've got maybe two weeks left here at the ol' job, so cubicle pictures are irrelevant.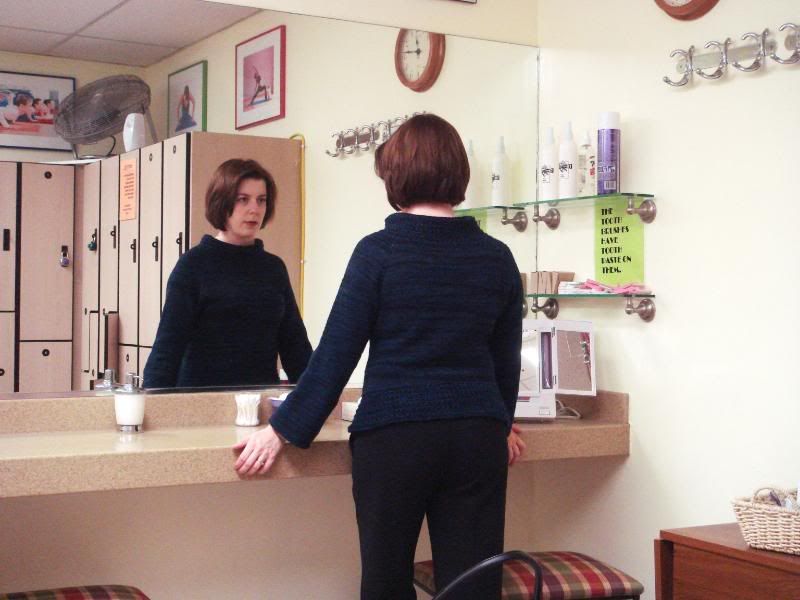 When there's no more job seventeen miles from my house, there's no need to belong to a gym that's seventeen miles from my house.



Still, the lighting was bright, and it was the best overall shot I could get of the sweater. It's hard to photograph with any detail at all while I'm wearing it, because the sweater is so dark and I am so very pale. If I bump up the lighting enough for you to see the sweater, I end up washing myself out so badly that I look like an apparition in a wool pullover.

The interesting thing about these pictures was that I took them over the course of a couple of weeks, and I dyed my hair halfway through that time. Guess which pictures are pre- and post-dye. It's not as easy as you'd think.

Details
Pattern
Ingenue from Custom Knits (Ravelry Link)

Yarn
Interlacements Dyer's Choice in dark blue, with black Ornaghi Filati Merino Oro carried along. I used about 1250 yards, including the sections that were unrecoverable after being ripped back.

I've had both yarns for several years. I bought the Merino Oro during my very first Stitches West adventure. It's a great carryalong yarn. I used its seafoam companion ball to make Bristow a couple of years ago. I still have a full ball of it in red.

The Interlacements was a mystery. They didn't know how many yards were in the skeins I was buying, and they weren't too sure on the weight. It seemed like a light worsted, so I was trying to bulk it up a tiny bit with the other yarn. As it turns out, I knit this whole sweater at DK weight, so it didn't matter.

I'm pleased with the subtle color variations, and with the very low incidence of pooling. It bled like crazy when I washed it, turning the water in the sink an inky black, but it doesn't look as though it's faded. After about seven full days of wear, it's only starting to fuzz up a little bit at the wrists.

As a bonus, it's a stash-buster. Three big balls of yarn are gone out of the stash, with only about a hundred yards left of each type.



Needles
Addi Natura and Addi Turbo size 6 for the body and neck, size 8 for the lower hem. I switched to the bigger needles so that the hem wouldn't pull in at my hips.

Time
November 1st to mid-March. It took a long time, because I wanted it to be done right more than I wanted it to be done fast. At least that's what I keep telling myself every time I see another Ingenue on Ravelry that took the knitter eight days to complete.

Modifications/Design Notes
The pattern would have worked fine as written. I modified it to suit my tastes and my body shape, but it could've been used straight from the book with no changes.

I knit it at a tighter gauge than the pattern called for, because my in-the-round gauge changed between the time that I swatched and the time when I started on the body of the sweater. By the time that it became clear that I was knitting at 22/28 stitches per inch instead of 18/22, I felt like it was too late to turn back.



I didn't like how the sleeves looked with the pattern at the edges, so I turned them under and tacked them up. Tugging at the edges and looking at the pattern on the inside of the sleeve gives me something to do in the company shutdown meetings. I find the lacy ridges soothing.

I continued with the waist increases at the bottom, because no way was this thing going to look good on my waist if it were that narrow. I think I added three extra increase rows in the stockinette section, and a couple in the bottom band.

The patterned section of the hem is longer than the pattern calls for, because it looked dinky to me when compared to the neck. I felt like it needed more weight at the bottom in order to balance out my shoulders. It's seven repeats instead of four. I redid the hem several times in order to get it to hit at the right place for me, and with the right amount of fabric. Again, this wasn't a problem with the pattern itself. It was just a matter of customization.


Conclusion
I wear this sweater as often as I can get away with it without having somebody ask me if it's the only one I own. I love it. It's comfortable, and seems like it's going to be durable because of the tight gauge. It's as appropriate for trips to Home Depot as it is for work.

Would I make it again, maybe at the right gauge this time? Absolutely. The neckline is flattering on me, and I dig the pattern stitch. I'd make it a little tighter at the arm separation, as I've finally figured out that I always overestimate my needs in that area.

In conclusion, great sweater.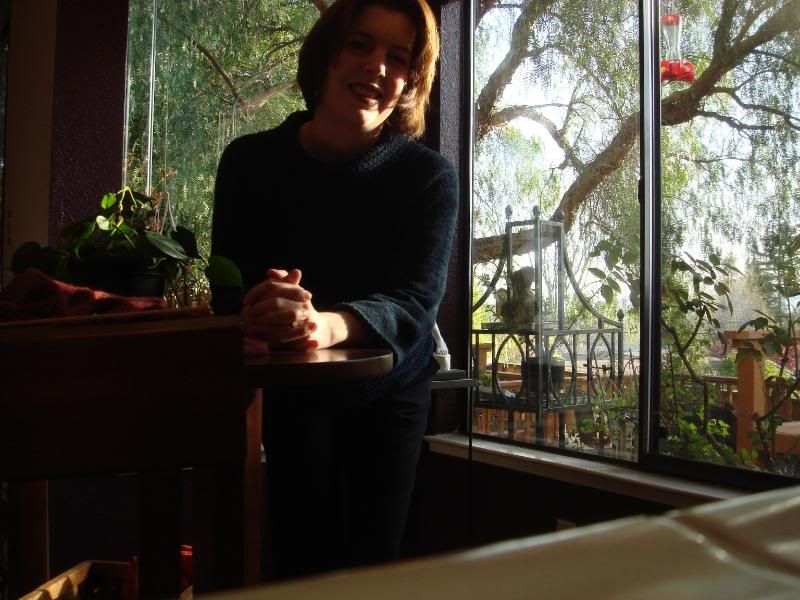 So why has it taken me almost a month to blog about finishing it? Combination of things, really. It's more than a little depressing at work, as we're all coming to terms with the finality of what's about to happen. It's hard to keep working on things that we know are going to be mothballed, probably permanently, by the end of the month. On the other hand, it's hard to sit here and blog while I'm supposed to be working. Stupid work ethic.

But I'm fighting through it. Fighting through it for you, dear readers. If I have to go against my deepest instincts and struggle to f$%k around here at work so that you can have something to read on a Friday afternoon, then struggle I shall.