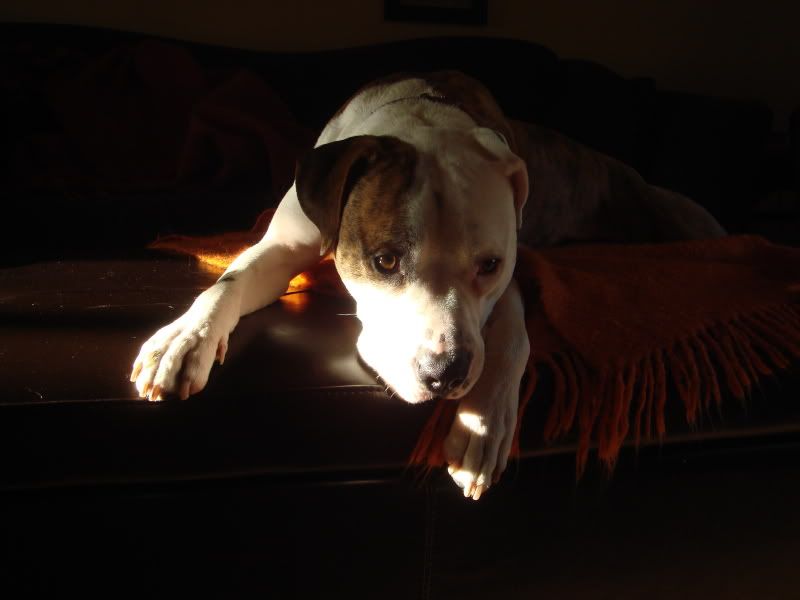 "I'm sad. I'm the saddest dog in the whole wide world."

Winston? What's wrong, guy?

"Well, I'm supposed to be learning stuff and going out to coffee with you, and having a good time in the world, but all you guys do is go to Home Depot without me or sit around and cough."

Oh, c'mon, guy. Is that really fair? We've both had the Death Cough for a month. We can't take you hiking up at the reservoir. We haven't felt good enough on a Saturday morning to drive all the way to Berkeley for class. You're not allowed in Home Depot. I'm trying to keep it together, what with the job thing and my being evicted from my super-sweet cubicle, and both Accountant Boy and I being sick. Besides, you played with Clem and Kaylee for three hours yesterday. That was good times, yeah?

"So sad. And bored. Bored and sad."

Would seeing some pictures of knitting help?

"No, not really."

OKAY THEN!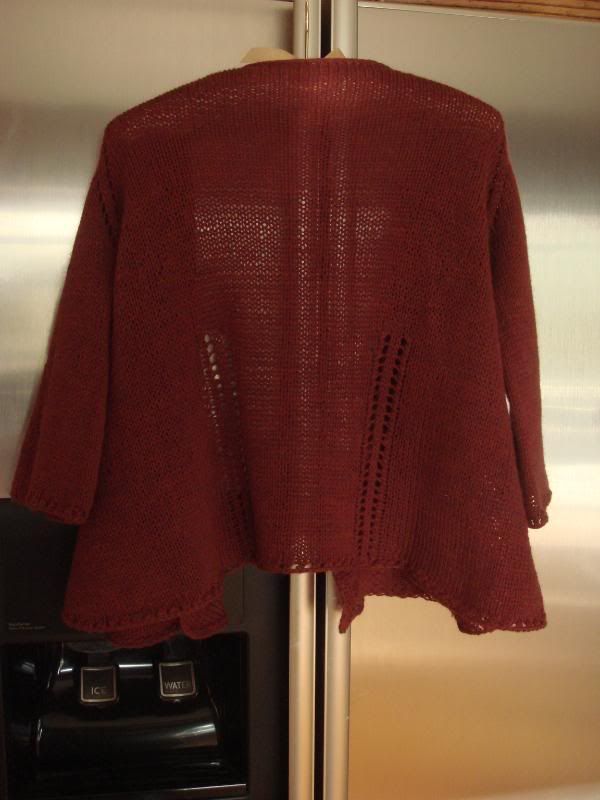 Yes, sometimes it pays to do what you know is right, even when it's hard. Even when it means unraveling and reknitting two-thirds of your work on a completed garment. This is my revised Sabine, almost finished a little less than a month ago, frogged three weeks ago, finished again yesterday afternoon. I made some small but important modifications to it, and it's just about perfect.



The red from the previous post is more accurate, but it's not too bad here. Thanks for the backdrop, Stainless Steel Fridge! (No problem! Hey, why not return the favor and fill me with something other than half-eaten burritos from Los Panchos? -- Stainless Steel Fridge)

Finished object post coming soon, after I finally do the finishing post for Ingenue. I can't in good conscience write it at work, but I'm not having much luck with it at home, either. See that face in the first picture? That face stares at me the entire time I'm at the computer. Consequently, I don't get a lot done when I'm at home. I'm trying to carve out more time for blogging, but it's not easy right now.

The Woman? What about your Buddy? Do I not merit a mention when discussing your time usage? Have you told them of our newest pursuit?

I was going to get to that later, Buddy. Maybe if we spent less time on this new pursuit and more time letting me type, I'd be able to tell the readers about your new favorite thing...

I've taken up JOGGING!

...or you can just tell them now. More on this story once I can get some pictures of it, or, better yet, some video. Nobody believes that Buddy's actually doing what I'm describing to them. He's like the Michigan J. Frog of feline fitness.