Where to start?

I haven't posted anything over on the Knitty WIP page, because I'm not getting things done. I've got a project that qualifies as a Knit Chocolate sweater, but I haven't posted over there, either. And, most offensive of all, I haven't posted anything about my most recent package from my completely awesome and cool secret pal. I'm a bad, bad blogger.

But that's all going to change. Why, you ask? Why, because of my new, shiny laptop computing device. All the kids have them these days down at the Starbucks. I felt old not having one of my own. Sure, I told my manager and my husband and everyone who asks that I need it in order to run Visual Studio. That's true. It's also true that I'd be more likely to post pictures and write blog entries if I didn't have to sit in my office with my back to the world in order to do it. Plus, that computer in the office gets noisy after more than a few minutes, like going to blow up kind of noisy. I think the CPU fan is going out. And...um...no, there's no other good reason for me to own this thing. It's got a 17" widescreen monitor, and a DVD burner, and a 6-in-1 card reader built in and it's bad ass, I tell you. If it were a car, I'd have spent all day today rubbing Turtle Wax on it, just so my neighbors would ask me about it.


But enough about that. On to the knitting related content. I got this bundle of goodness from my secret pal, oh, a week or two ago. I know it was a Friday, because I was home to receive it, and I took the last couple of Fridays off to catch up on some stuff. See what I mean? Bad blogger.

This was the Busy Bee package, because while I'm not getting anything done, I'm still managing to appear to be practically buzzing with activity. Frenetic, I think it's called. Anyway, the thing about my secret pal packages is that they're always adorably wrapped. I like to lay out all of the individual things and unwrap them one at a time.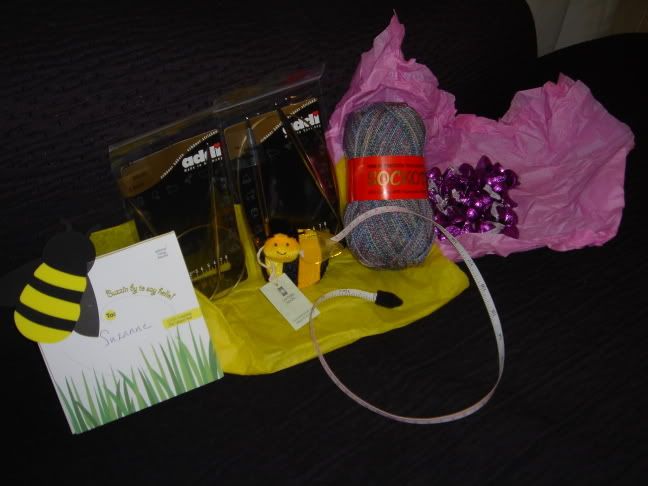 So in this package, we have an adorable Lantern Moon bee tape measurer, two sizes of Addi needles, a sweet card, delicious dark chocolate Hershey's Kisses, and a ball of Sockatta yarn.


I've finished Tubey and only have the weaving in to do. This picture's a little old, since now the whole body is done, but it's the picture I have available.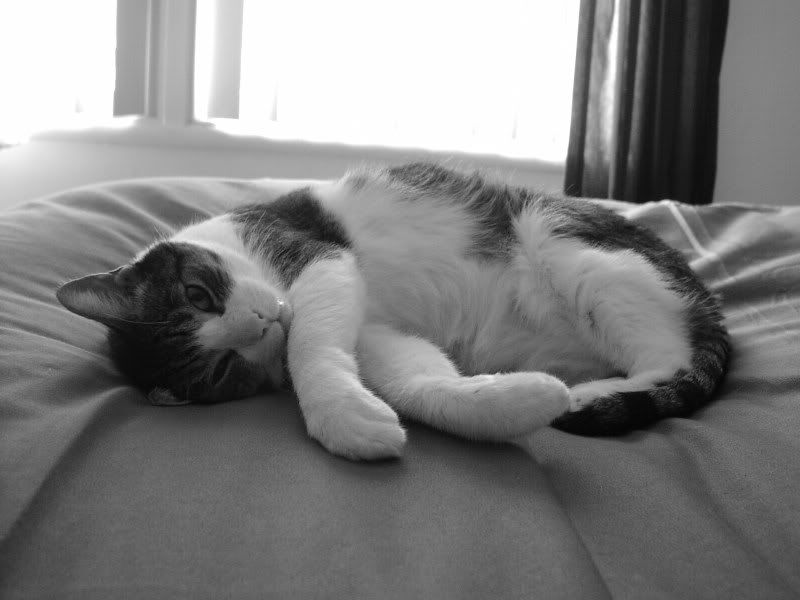 And finally today, the first in what I hope will be an exciting series, Gratutitous Buddy Photos. Few cats are born to be in front of the camera. Even fewer are aware of their gift. Rare is the cat that actually acknowledges and loves the camera. Buddy the Cat is one of those cats.

(The camera loves me right back, the Woman. Look at me. I'm stunning. -- BtC.)