This is kind of a bad picture of me. My face is shiny, I'm hunching up my shoulders in such a way that I look about four feet wide, I've somehow given myself a triple chin...but I don't care. I wanted a picture of Tubey, and I wanted to be in it.

This was a tough one. I thought it'd be easy, but by the end I was almost crying. When I bound off and realized that I was about an inch shy of long enough, I DID cry. I cursed every stitch of the last twenty rows. I think the issue was that I didn't use the recommended yarn. About a year ago, I bought a bunch of Trendsetter Kashmir, a 50/50 cashmere-silk blend, to make a Clapotis for a wedding. I made the wrap, but didn't end up wearing it to the wedding. I didn't end up wearing it much of anywhere, as it was more of a blanket than an elegant scarf. I loved the color, and I remembered enjoying working with the yarn, so I thought this would be a good time to recycle it and make something wearable. Well, here's the problem. This yarn isn't as springy as Cashmerino Aran. It didn't want to move smoothly around the circular needle. I had to yank it around the cable every ten stitches or so. I do this funky thing with my index finger when stitches won't slide off the left needle, where I put my finger over the tip of the needle for leverage, and pull off the stitch. My finger hurt, and I wasn't able to unlearn my bad habit.

Also, this yarn's expensive. I had all of the pistachio from last year's knitting mishap, but had to buy the blue, cream, tan and brown. I didn't have the right amounts to lay out the stripes in the same proportions as those in the pattern, so I had to guess at their proper length as I went along and hope I didn't run out of any one color before I'd done what I wanted with it. I did not want to have to buy more of a color in order to knit two extra rows of it.

It wasn't as fun as I wanted it to be while I was working on it, but I sure love it now. In fact, I hated it so much at the bind-off that I didn't do the finish work for a month afterward. I finally finished weaving in the ends last Thursday, and wore it to work last Friday and again for a day around town on Sunday.

The details? Why not. This is Knitty's Tubey, knit in the small size. It took about six balls of green, all of the dark brown and tan, and probably half a ball of the blue and white. I started it on February 8th, and bound off on March 18th.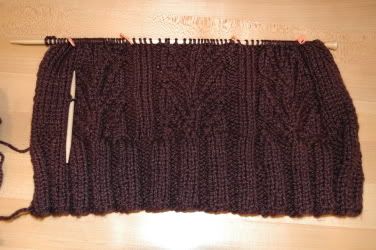 Somewhere in the midst of all of the angry Tubey experience, I decided it'd be a nice change of pace to knit something more challenging. This is the start of Starsky I was having quite a time with this one too, until it occurred to me to rewrite the chart so that I would understand it. I couldn't seem to wrap my mind around the chart, with the right side and wrong side symbols looking the same and meaning different things, but I also couldn't remember what all of the abbreviations meant in the written instructions, so I had to keep looking down at the legend for Every. Single. Cable. Cross. I kept muttering, "Oh, goddammit! It's THAT one again. Why can't I remember what I did seventeen stitches ago???" I made up my own abbreviations for each of the cable crosses, and maybe I'm the only person in the world who'd understand it, but so be it. Now it's fun! I'm a little worried about how small it looks, but I think it only looks narrow because it's all smooshed up on the needles.
And then, in the midst of all of the cable crossing and Tubey cursing, I decided to take up crochet. Here's my first little sampler. I think I'm going to love crochet. It seems like the most natural thing in the world to me. I've got 'The Happy Hooker", and I'm going through each of the sections in order. Tomorrow, the double and triple crochet. It's a brave new world.