Just when I needed something good to land on my doorstep, this package arrived. Unbelievably cool stuff, wrapped up in polka dot ribbons!


Buddy the Cat tried to lay claim to all of it, but we've talked it through and now I think he understands that it's all mine. (You'll have to sleep some time, the Woman. Mark my words. It's only a matter of hours until at least one of those things is in my mouth. - BtC.)

Here are the details:

- Circular point protectors
- Sock-shaped point protectors - so cute! I've never seen these before.
- Sweater-shaped DPN holders - even cuter!
- Coiled needle holders
- Stitch marker rings
- A variety bag of aluminum cable needles - way cool, since I only have the grooved wooden ones, and they're kind of awkward to use
- Self-coiling tape measure
- A cool little knitting gauge
- Barrel shaped counter - made for fitting onto a straight needle. No more trying to tie the other kind to my needles with waste yarn!
- A gorgeous set of glass needles with pale green ends. You can't see the ends in this picture, but trust me, they're beautiful
- Two balls of Berroco Medley in 'Louvre'. The colors in the balls are lovely, aquas and fuschias and greens - like jewels half-buried in sand. I can't wait to make something out of them
- A needle case with a built-in accessory case
- Calendar of knitting thoughts
- Four handcrafted stitch markers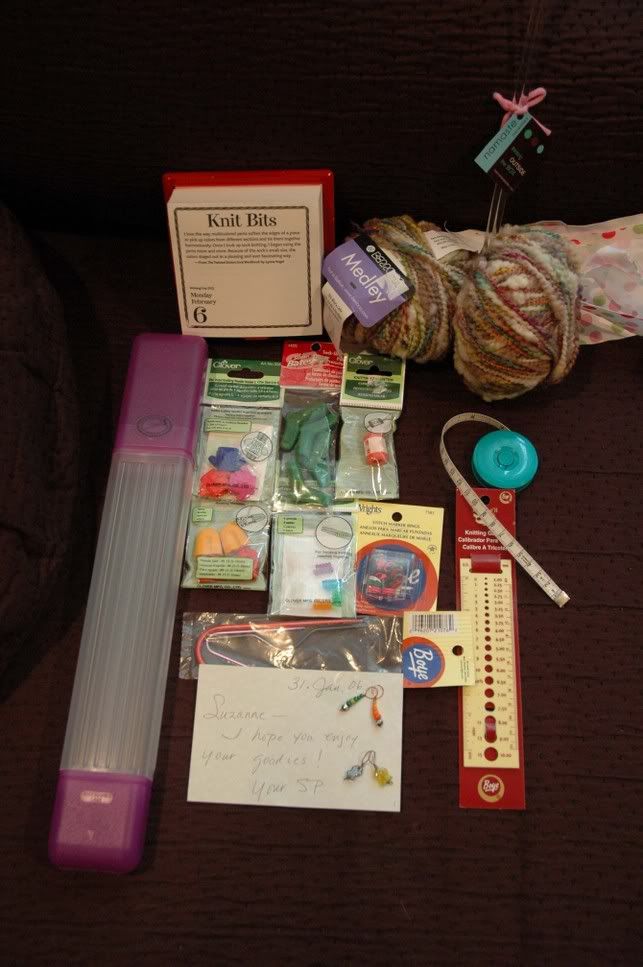 This was so much fun to open, and it's all so cool...I'm really overwhelmed. Thank you, S.P.!