Pan o palo. Yes. Hmmmm. Interesting choice.

Buddy, I don't think that phrase means what you think it means.

Of course it does, the Woman. "Bread or stick". Am I the only one in this house versed in the art of babelfish?

Yes, literally translated that's what it means if you take it out of context, but what Diaz was saying was...

Good, then. We agree. I'm staring at a scrumptious cake of yarn, and cake is much like bread, and very near the cake is a beautiful, shiny brass stick. I do so love playing with sticks. And so I'm faced with a choice, yes? Bread or stick? Hmmm.

Oh, God. Here comes that headache again.

At least I'm not trying desperately to shove the whole ball in my gaping maw. Advantage, Buddy.

Who's trying to shove...WINSTON!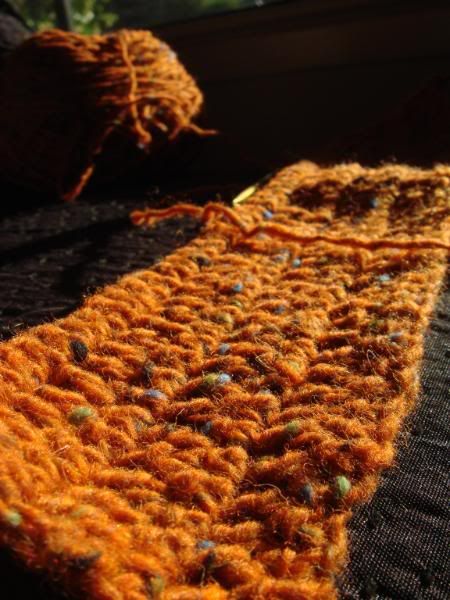 I decided that the way to learn to crochet was to just dive right into it, and to Hell with all of that "knit a long, skinny scarf" business. I found a pattern in Stitch and Bitch Crochet that had arms worked separately from the body, and I'm going for it.

This is Debbie Bliss Aran Tweed, which I got in a swap from KnittingSpaz right about this time last year. I don't know why I wanted it, but I traded some Koigu and The Knitter's Handy Book of Patterns for more than twenty balls of it in green and orange. I've knit with Aran Tweed before, and it was an experience in pain. It's rough, hard to slide along the needles and prone to breaking. Luckily, these things are less of an issue with crochet. I think it's going to turn out great, but then again, I am only a couple of inches in on one of the sleeves. We'll see how I feel once I get to the body.