For many years now, Accountant Boy has affectionately referred to me as Turtle. I think it stemmed from my need to have a good, solid shell around me into which I can retreat, and also my willingness to push forward with the weight of the entire world on my back. In many ways, I'm more like a hermit crab, but Turtle sounds cuter than Crab, so Turtle stuck.

He's to the right of me here, saying, "Paddle! Use your turtle powers!"



So we went camping this weekend. We put up our tent, referred to as "Tent Mahal", "The Chateau", "The Biltmore", "Pickfair", and "Huge-Ass Tent", unpacked our stuff, arranged everything in the shell just the way I liked it. We bought the tent on sale from REI.com. In our defense, we'd never seen it in person. We had no idea it'd be this big. When we realized what we'd done, we decided to roll with it, really make it ridiculous. Note the tassles on either side of the doorway. What you can't see, because I didn't take pictures of the interior of the back room, are the silk comforter and pillows, the battery-operated ceiling fan and light, and the queen-sized inflatable mattress that doesn't take up even half of the floor. Last year, because I didn't go on the trip, A.B. stayed in the tent by himself, which made its extravagances even more obscene.



Look at it in comparison to the other tents. Accountant Boy is more than six feet tall. He can stand without stooping in this tent.



Breakfast on the morning of the hike. I took this picture to illustrate how huge the guy next to A.B. is.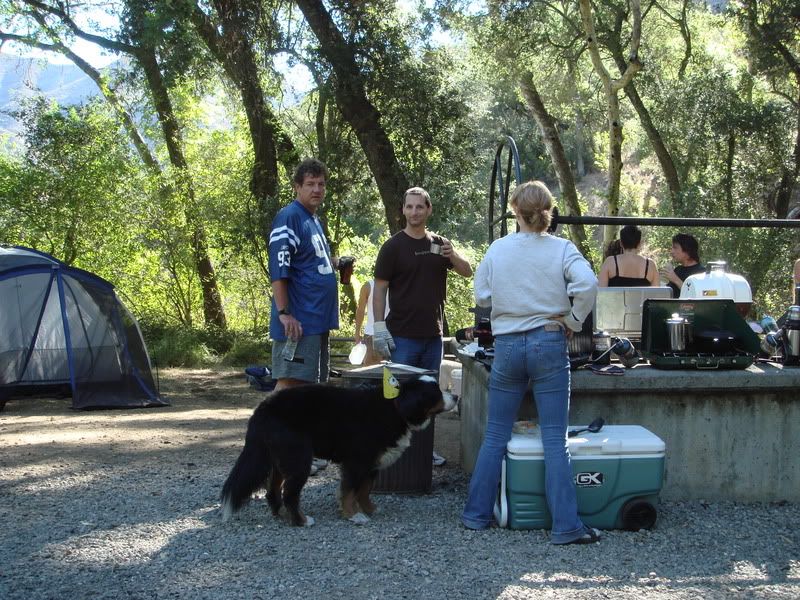 The hike consisted of a three mile climb up a moderately steep fire road, followed by a short descent to the river. The river portion alternated between short swims across slow-moving pools, and miles and miles of climbing across exposed river rocks. In previous years, there had been more water in the river. I was given to believe that there would be more floating downstream. Instead, there was this.



I know I've mentioned my frightening lack of depth perception before. Here's where it really becomes a handicap. "Honey, just pick your line and WALK. You're going to be way more tired if you hover over each rock before you step on it." When I tried to follow A.B.'s advice, I'd invariably badly overreach and end up stretched out between two boulders, or completely miss my next step. It didn't occur to me until the next day that the root of the problem was my eyesight. I tried to pick my line and walk it, but I just couldn't tell how far away the next step was going to be.



Most of the way, A.B. helped me by actually holding my hand as I hopped tentatively from boulder to boulder. There are no pictures of this, as we two were alone for most of the hike. Soon after this shot, we lost sight of everyone else and didn't catch up again. I know he would have been up with the front group if he hadn't stayed back to help me. I love him for this.

Some of it was a lot of fun. There were watery points, and features that wouldn't have been visible if the river had been higher. Take this slide for example. I'm told that last year, it was completely submerged.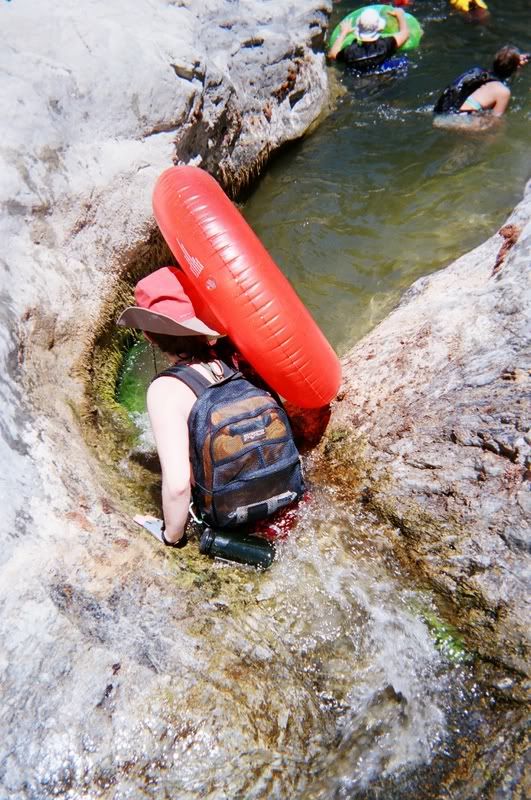 We weren't an outdoorsy family when I was young. I think this might have been the second time in my life that I'd been in a river. I kept looking down as I was pulling forward, exclaiming, "Look, honey! There's FISH!" Then, I'd turn back and find that I was a good thirty yards ahead of him. I have a strong, fast stroke. I loved the water. I wish there had been more of it.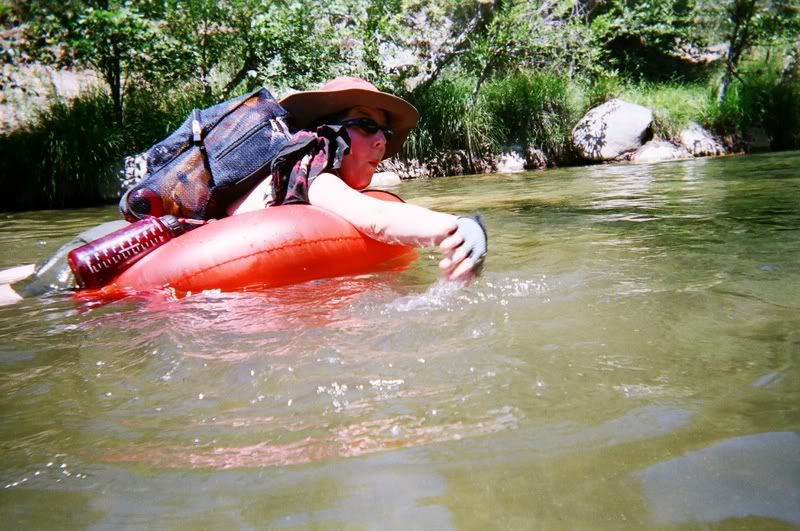 What did I learn on this trip? I learned that I might actually like camping, maybe with a little less in the way of camping equipment. I know it's car camping, but that doesn't mean we have to fill the car with half the contents of our house, and a tent that's roughly half the size of our kitchen and dining room. Everyone at the campsite did this, to some extent. Yes, our tent was the biggest, but everyone had an embarrassingly large collection of supplies.

I learned that I'm a really strong swimmer and paddler. A.B. suggested that I might like rafting or kayaking. "Would I have to climb over two miles of algae-slick rocks with the boat on my back?" "Not usually, no." "Well, then. I think I'll love it."



We were the first two people to reach the bridge at the top of the trail. We stood side-by-side and stepped onto it together.

I love Accountant Boy. I didn't have to learn that on the camping trip. I already knew.