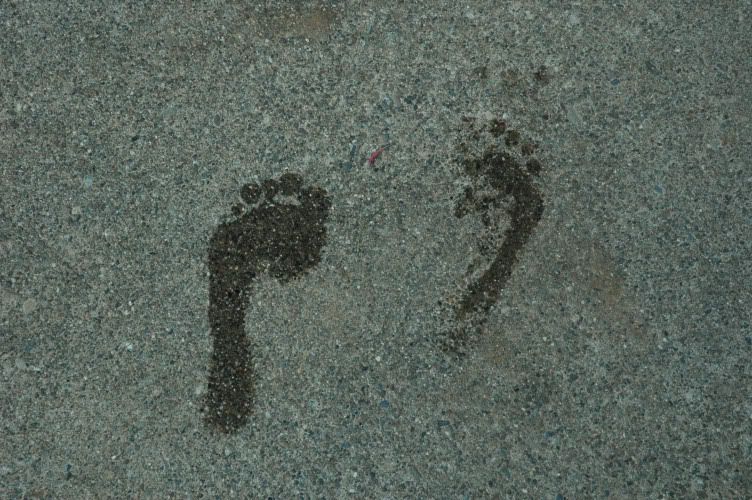 We Bananas have gnarled feet. None of us have any business wearing toe jewelry on them, or exposing them in summery, strappy shoes. DaddyBanana's big toes both cross over his second toes, and his feet are so flat that there isn't a crescent in his footprint. I had bunion surgery when I was eighteen to correct the same deformity in my own feet. My big toes are straight now, but my feet are still gnarled. Take a look at these dogs.
When I had the surgery on the big toes, I guess there would have been an option to do the smallest ones as well, but we didn't spring for that extravagance. I kind of like them this way, snuggled up next to fourth toes, far in from the edge of my foot. My second toe on my left foot is a full toenail-length longer than my big toe when uncurled, and it has what my cousin calls "The Gordon Nail", which I inherited from MommyBanana's family. It's so thick that it almost can't be cut with toenail clippers, because they don't open wide enough. No, it's not that way due to fungus, no matter what the commercials say. It's like that from years of ramming into the ends of shoes and slamming into floors. It has developed superior defenses.
Like I said, gnarled.
I run on them, a hobby I made them take up when they were in their mid-30s. I balance on them when I lift weights or when I'm up on a ladder changing a lightbulb, pretending to be an acrobat with Cirque du Soleil. I don't pick them up far enough when I walk, so I trip over them at least once a week. I stub them frequently. They never complain. "Poor little flat feet," I used to say to them. "I should treat you better. Maybe next week we'll get a pedicure." I never do. They're happiest when they're being useful. They're all about function, not frou-frou. "Poor little flat feet."
But as I get older, something strange is happening to them. Against what I'd think would be all reason and common sense, I'm actually developing arches. See that print? There's a normal-looking arch there. I haven't scrutinized my footprints in a long time, but I'm pretty sure I'm not remembering this wrong. They used to look like outlines of swim fins with grapes glued to the end of them.
I love them, my utilitarian, gnarled feet. Love them. Maybe next week I'll take them out for a nice pedicure.