Well, that satisfied feeling of accomplishment couldn't last long. I have more than half a dozen again. Here's the updated list:

Frog Pond:

1. Green graduated rib pullover -- I haven't touched it in months. It's not that I don't like it, it's just...well, you know how sometimes you start to realize you may have made a mistake, but you're not ready to commit to fixing it? Yeah. I've been feeling that way for a while. I think it might finally be time. This yarn should have been used for its original purchase purpose, the Cable-8 top from last year's Interweave Knits.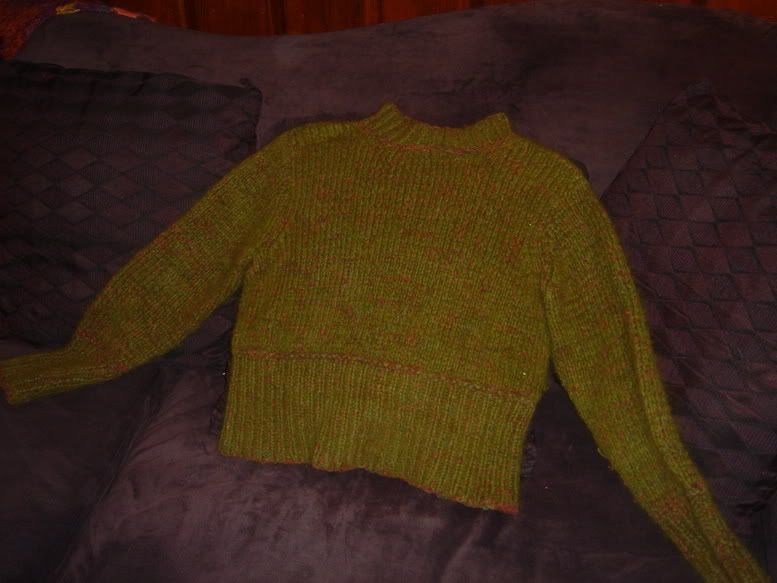 2. Olive angora pullover - I knit this a couple of years ago, before I understood the difference between angora and more resilient fibers. It's too big, no question about it, and blocking it down doesn't help. The ribbing doesn't hold its shape. The yarn used as a carryalong gets snagged and tangled up in the angora halo. The body was knit in the round up to the armpits, then knit across for the rest of the way up. The difference is noticeable, and not pretty. If it's froggable, I'm going to use the yarn to make an INTENTIONALLY bulky sweater.


3. Neck of a store-bought sweater -- I love the simple body of this sweater, but I don't have the swan-like neck to pull off a cowl this big and this close to my face. It's almost like it's supposed to be the world's tallest turtleneck. I don't know who this sweater was designed for, now that I'm really looking at it. Who in the hell would ever be able to handle that much orange wool bunched up just under their earlobes? It's just too much. I figure I've got nothing to lose by trying to cut it down.

On or Near Needles:

1. Triangle Edge Cardigan - yes, still working on it. I like it, but I got bored with all of that seed stitch. After a couple of weeks off, I picked it up again last night and made some good progress on it. I''m looking forward to finishing this one, as it's the first sweater I've knit that takes into account my actual measurements. I paid attention this time, not just to the finished bust size, but to all of the other measurements, too.


2. Bristow - Not going too badly so far. I'm about halfway up one of the fronts. This will be the project where I finally start using lifelines. It's not that it's that complicated, but the screwups are glaringly obvious when they happen, and I'm tired of tinking as many rows as I knit.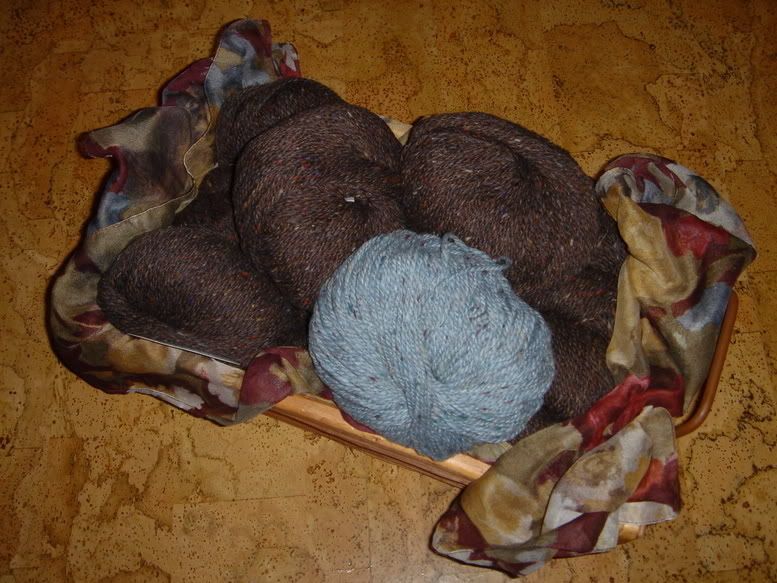 3. Leo - I have the yarn, fifteen balls of Jo Sharp Silkroad Aran in 'Granary' and one ball of 'Boheme' for a possible very thin stripe, out in plain sight, and I told someone on the Knittyboard today that I was going to start it. It's for my sweetie, who has patiently watched me knit hats, scarves and blankets for other people, and nothing for him.

4. Caroline's Sweater (from Beyond Wool) - I have the yarn, the needles and the desire to wear this sweater by March.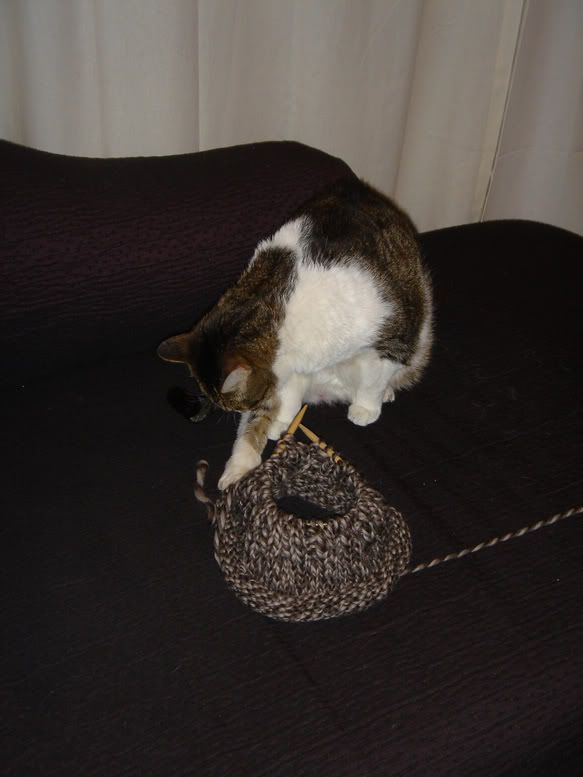 5. Graphite - Simple hat in Rowan Big Wool. It's almost done, but I don't know if I like it. The Big Wool is too thick for the basic pattern I've been using for hats, and I didn't allow for the extra bulk. It's a little stiff. I'm either going to finish it or frog it. The jury's still out. The colorway reminds me of graphite pencils, so I named it Graphite. For some reason, I can't bring myself to frog it because now I like its name. When I put it on the chaise to photograph it, I realized that it's almost perfectly matched to Buddy the Cat.


6. Hat 2 - Ribbed hat in Cascade 220 - the hat I should have made for my sweetie for Christmas. I can't start it until I free up the needles from Graphite.

There's other stuff that I want to start, but compiling this list has helped me to realize that I shouldn't even think about it yet. In fact, I probably shouldn't have spent this much time writing posts tonight. It's possible, just possible, that I'm procrastinating because I don't know where to start.