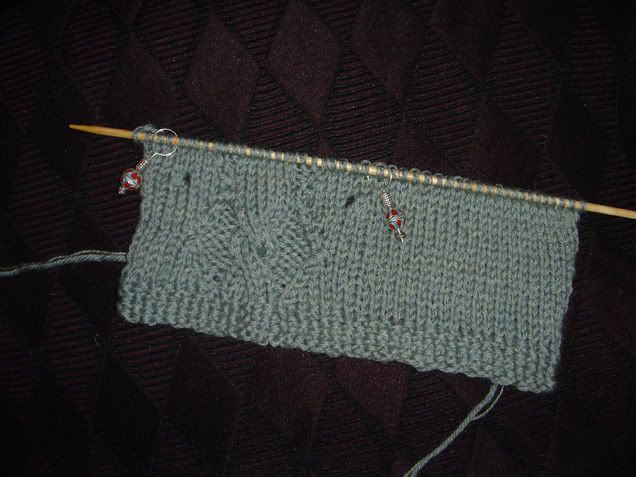 I get so busy updating other blogs that I forget to update my own. Well, it's a new year, and that means a new start. It's a new start for me, and a new start for this yarn.

The seafoam Pingouin DK yarn and I go way back. I bought it for my first project, a simple turtleneck from a Patons pattern book. Looking back now, I see why that first endeavor failed and drove me to put down my needles for the next eleven years. The turtleneck? Ugly. The gauge? Tiny. What kind of a beginner project has a young knitter struggling to create an opaque, flawless stockinette fabric on size 2 needles? I was never going to finish that sweater. The waistband ribbing for the back of it sat in my yarn basket for a decade. I think a moth ate a hole in it. I frogged it a couple of years ago, threw all of the yarn into a SpaceBag and vowed to find a perfect, timeless project for it. After I'd held on to it for all of these years, it wasn't going to get knitted up into some trendy top that I wouldn't wear for more than a season. Over the years, I kept searching for that perfect pattern. I thought I'd found it in the cabled rib polo sweater from a couple of posts ago, but I didn't get more than a couple of inches into the swatch before I realized it wasn't going to work. I scrapped the idea of the cabled rib sweater. That wasn't what this yarn wanted to be.

I think my lovely old yarn has finally found its true purpose in Bristow. I love the wool at this gauge, I'm having fun with the charts and the cabling. Sure, I'm only through one repeat on one side of the front, but I'm loving it.

Watch...it'll be frogged by next weekend.