So exciting! So very exciting! Yaaaaaay!

"What," you may be asking. "What is so exciting? Did you finish the Tweedy Aran Cardigan already? How unusually productive of you. Congratulations! Is the just a closeup of the whole thing?"

No, not exactly.

"Oh, yeah. It does look like it's not seamed. Is that all that's left? Where's the rest of it?"

Just the sleeve.

"Yes....just the sleeve to sew up, and that's why you're so excited?"

It's just the first sleeve. I'm only as far as the first sleeve.

"Oh. Well. Hmmm."

But I'm super excited to say that I got this much done, because now I know that there's hope. It seems as though it's taking forever for me to get through even a few rows a day. Binding off that sleeve was the high point of my week. Which is kind of sad. Look, it was exciting, O.K.? Just go with it.



Here's the odd thing. When Winston reviewed this yarn last week, he brought up the apparent color difference between my yarn and the picture on the website. Look at how pink it looks under this light. It's just about the color on the website. This colorway does not look this pink in any other light I've had it in, either at home or in my office, day or night.

The reason I'm pushing so hard to get most of it done by the middle of February is that I need to know if I'm going to need more. If I know that I'm going to run out, then I'll go to Stitches at the end of the month and talk with the Black Water Abbey folks. That would be my only reason for going to Stitches this year, as I'm still working through yarns I bought there six years ago. This sleeve took about three ounces, which is about 3/4 of the ball. I have six balls total.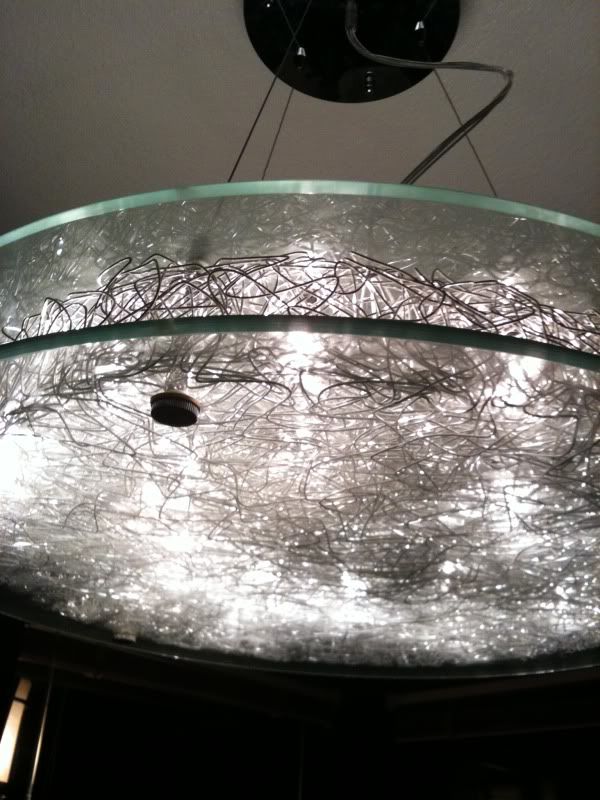 This is the light that's throwing the pink flare on the yarn. It's two plates of glass sandwiching what looks like really heavy soldering wire, with two dozen little white lights poking down through the top of it. It's creepy from above, like a bunch of wires plugging into the head of the Borg queen, but luckily I'm not tall enough to see it from that angle. This is the same light that I was talking about a couple of weeks ago, the one that makes my skin look warm. It's odd, because the light looks so white that it seems like it would make everything look cooler, but it turns out that the opposite is true.