9/14/2002
COBRA Cafe, Museumplein
Around Lunchtime
* * * *

Went to the Rijksmuseum yesterday. It's huge and difficult to navigate.

We're watching a group of Japanese tourists grab young Dutch girls from near the reflecting pool and take pictures with them. Apparently, this isn't considered inappropriate by either group.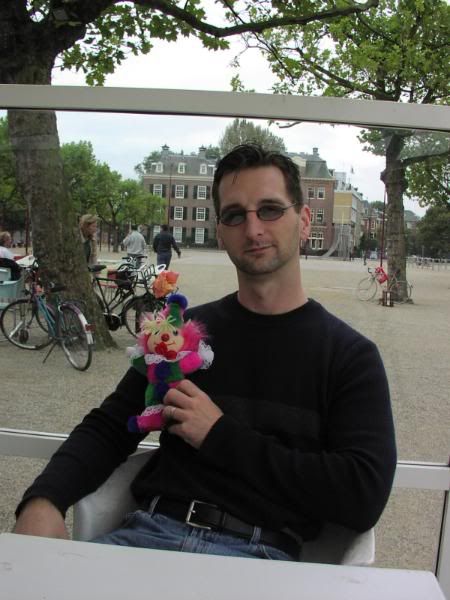 Peter suspects that our waitress hates us. She keeps shooting dirty looks at us. We're waiting for lunch, people watching and relaxing. We did a lot of walking yesterday, so we're taking it easy this afternoon.

We're listening to some traditional Japanese music. Peter made up some lyrics which he's muttering to himself as I write. I believe the lyrics are as follows:




"Got a cow
And a chicken
And a rooster
On my farm..."

He blames it on the spacecakes. I blame my inability to write coherently on the cakes as well.

"(something-something
something-something
something-something
in the barn)"

Later that Day
Internet Cafe across from our hotel
An e-mail to my friend, Amazon
* * * *
Hi!

So we're here in Amsterdam, and we're having a great time. More accurately, we're alternating between having a genuine great time and having such an angry time that we're making ourselves laugh...which is just another way for Peter and Suzanne to have a great time.

Things that are genuinely great about Amsterdam:
-Everything is within walking distance.
-The city center is beautiful. We walked from our hotel to the Rijksmuseum yesterday and it was like walking through a fairytale. All of the centuries old architecture, the little stone bridges, the gables over the canal houses, just beautiful.
-The museum square and nearby city park are gorgeous. I'd never been in a building older than Mission Santa Barbara.
-Accordian duo playing Vivaldi's 'Summer' in the passageway under the Rijksmuseum. It doesn't sound like much, but it was beautiful.


-Rembrandt's 'Nightwatch' is huge! Of all the Dutch painters, Rembrandt is hands-down my favorite.
-Good coffee. Great muffins. Hey, what was in those muffins, anyway? And why'd the guy tell me to only eat half of one?
-Weather was perfect yesterday. It was warm and sunny, and stayed warm all evening.
-Everyone speaks a least enough English to be helpful.

And now for a counterpoint.
-Everything's within walking distance. This means that it makes little sense to try to take a tram anywhere. Makes little sense until you realize that there is no way to keep from getting turned around once you set off on foot. We keep getting lost. I blame it on the position of the sun. It's much, much lower in the sky here, so any reckoning using daylight is completely useless. Peter blames the Dutch for not having more accurate tourist maps.
-Dutch modern art sucks. Maybe it was the muffins affecting my mood, but the modern art museum made me so angry that I decided to stop telling people that I majored in Art History. Standing in the Stedelijk Museum bookstore, staring down at the numerous book covers featuring photo montages of a single woman's breast, and apple, a growling Schipperke and a dead praying mantis, I decided to divorce myself from art. It's hard to explain. Wait, no it's not. A room full of overdeveloped photo prints of industrial scaffolding is not art. It's an insult. I know that this was the reaction of most critics when the Impressionists first showed their work. I'm probably just not 'getting it', but I don't care. Modern art blows chunks...then takes a picture of it and titles it something like "Glory of Man's Desire #48".



-The Canal Tour - a chance to sit across from two existentially sad and disconnected German tourists. Really loosely translated:
Man -- "What did he say?"
Woman -- "The harbor is fresh water."
Man -- "Hmm."
Woman stares down at the table without speaking for
the next five minutes.
Man -- "What did he say?"
Woman -- "The canals are 2 meters deep."
Man -- "Hmm."
It was like nihilistic German cinema come to life. And we were 18 inches away from the screen. The woman in the seat behind Peter put her arm across the back
of the bench, turned her head so that she could face forward, then fell asleep. Really asleep. Mouth hanging open, head nodding. I don't know how she didn't fall forward and hit him in the back with her forehead.
-Cloudy and near raining today. I blame the Dutch for this. If you're going to be aloof and condescending to the friendly American couple trying to buy a can of Coca Cola, you're just begging God to give you shitty weather.

We're not having the best of times today, but we're having fun with it. After our bad museum trip and surreal canal tour, we sat up in our room, drank our
Cokes and had a good long laugh. Peter promises that France will better suit us.

We had a wonderful time yesterday. Today's only half over, so we're going to give it a chance to redeem itself.

We're taking a lot of pictures, bringing our unique kind of joy to other tourists. There's a theme to our photos. People seem to find it humorous. I'm not going to spoil it by revealing it. You're going to love the resulting photo essay.

We leave tomorrow at 9:30am for Paris. More later.

* * * *
Retrospective -- Yeah. We were high that day. What was your first clue?

Over the years, people have looked at those two pictures of us and commented on how relaxed and happy we seemed. The funny thing about it is that we took them just an hour prior to the Stedlijk incident.

I'd forgotten about some of the good things, like the Vivaldi and the canal tour. If I hadn't dug through my old e-mail for this post, I wouldn't have remembered anything about either of them. I'd love to go back there, although you'd never know it by talking to me during the intervening six years. Why's that, you say? Wait for tomorrow's post.