Remember this gorgeous stuff? No? That's because it's from way back in 2006. I said I was going to use it before starting anything else, because it was a gift and it seemed rude to add it to the piles and piles of stash yarn up in my attic. I kept my word on that, never storing these two balls of silk in the yarn cave at the old house. I kept them in a basket in the spare bedroom, which was just as unproductive, but I didn't consider them fully stashed. When we moved, however, they made their way into the dark recesses of Bin 3, buried under odd balls of Manos del Uruguay and some sock yarn that I never intend to use for socks.

I never stopped thinking about it, the beautiful green yarn that Donatella gave to me for my birthday, and I kept hoping the right project would come along. I tried knitting the herringbone scarf pattern that came with it, but the yarn's sort of thick-and-thin, so the stitches didn't look good to me. I attempted to make La Mer from the latest Interweave Crochet, but I got frustrated by the instructions for Tunisian lace, and by the fact that the pattern isn't entirely reversible. We were headed for that dreaded "It's too special to become ANYTHING!" place.



When you're driving around Liberty City in the stolen sports car that you spent two hours trying to find, suddenly that same car appears in every intersection you cross and in every parking lot you pass. The Boteh pattern was like that for me. I saw it out on TurtleGirl's blog, and then I started seeing it everywhere. I decided that Boteh was as good a pattern as any, and I didn't care if I got gauge or if I'd have enough yarn to make it as long as the pattern. It just needed to be done.



Details

Pattern
Boteh from Interweave Crochet, Spring 2007 (Link to Interweave Crochet) (Link to Ravelry)



Yarn
Artfibers Chai - 100% Tussah silk, color 10. I didn't realize until I went to find the link that this silk is harvested from cocoons already abandoned by their moths. Neat.

It wasn't exactly easy to work with, although it always felt good in my hands. The thickness varies from worsted weight to laceweight, which might have been easier to handle if the stitches were all on a knitting needle. As it was, I kept losing track of the thinner stitches and having to rip back rows to get the right count. I used almost all of the two balls. I've got maybe ten yards left.

Hook
Brittany Birch E-hook.

Time
This took about a week and a half. I started on July 21th, finished on July 31st. I worked most of it while watching A.B. play Grand Theft Auto, and a couple of triangles during lunch breaks from my training class. Here we see it enjoying a break on the landing outside the classroom at Bishop Ranch 8.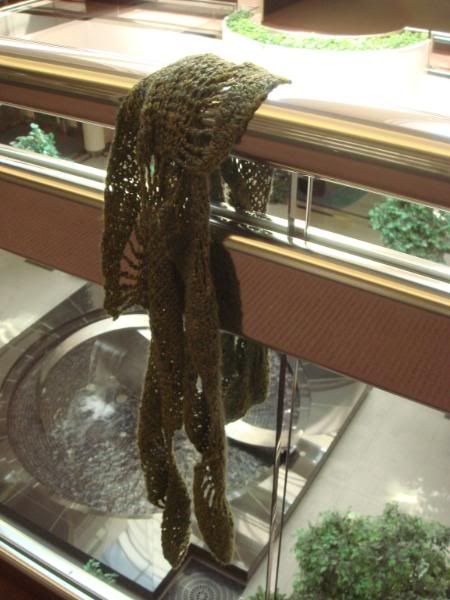 Modifications
I didn't have as much yarn as the pattern called for, so I made fewer triangles and I didn't go all the way around the border with half-double crochet. It's a little slinkier as a result, which is alright by me.

Conclusions
This is the perfect use of my two balls of beautiful silk. It wasn't going to work with a pattern that required more stitch definition or attention to detail. In the places where I was working, the light wasn't strong enough for me to see what I was doing half the time, so I needed a foregiving pattern. This was it. I'd get to the end of a triangle and not have enough spaces to make all of the long side stitches, so I'd have to make a couple of chains and squeeze them in. No two triangle ends look the same for this reason.

It's lightweight and comfortable. I'll get a lot of wear out of it. The only problem is that I won't be able to wear it when I'm in meetings or somewhere that I need to pay attention, because I can't stop picking up the ends and looking at them or draping the triangles around my hands. I don't think the pictures can do this yarn justice. It's mesmerizing.

When I finished and laid it out on the granite, the scarf looked like a long piece of seaweed.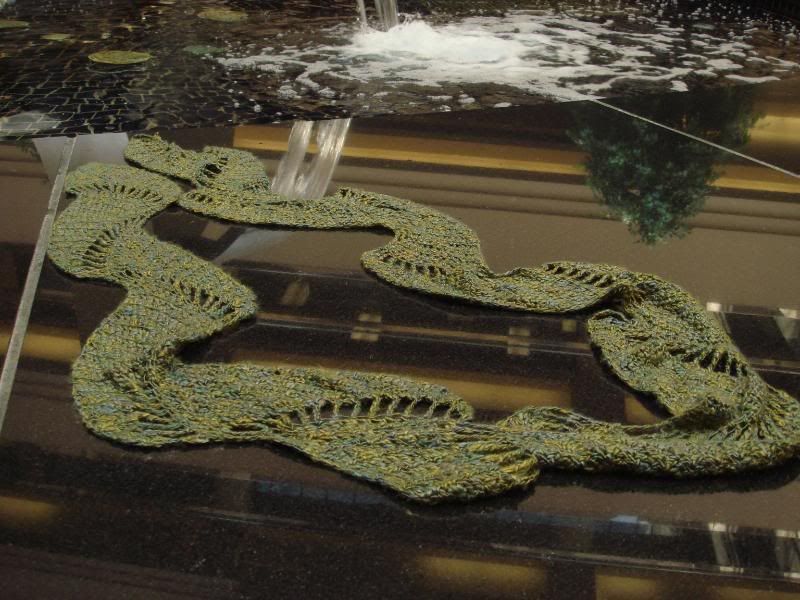 I kept thinking of little stories to associate with it, and trying to find the right tone for the FO post, but nothing sounded good once I sat in front of the computer. I read back through my older posts and thought about how much I liked the entries where there was some thought put into the story, more than just "this is my everyday life and here's some yarncraft." I'm simply not able to make that happen right now, and that makes me sad.

It's been a rough summer physically and emotionally at Casa Banana. Job stress, family stress, "I killed the lawn AGAIN?! Are you f$%king KIDDING ME???" stress...yes, apparently I missed a step when setting the sprinkler timer over at the old house, so it's still not watering the lawn properly. It's fixed now, really fixed this time, so maybe some of the lawn and plants will come back. It's all weighing on me, all of the uncertainty and the hastily scrawled lists of things to do. In yoga class this weekend, I realized that I was so tense that I couldn't exhale through my mouth. My jaw wouldn't open. I tried to read a time management book when we got home from the gym, but I couldn't get through the first chapter without being interrupted. I know it's an old joke, and believe me I thought it was funny while it was happening, while I was standing in the middle of the living room with the book in my hand, looking down on my dog and my cat as they engaged in a game that I call Play-Ball-Slap-Fight. "Really, Buddy? Five pages? I can't get through five pages without having to keep you from trying to eviscerate him? If you don't want him to step on you, why don't you STOP RUNNING UNDER HIM?"

So for now maybe I can't write the posts that I'd want to write, and maybe I can't spend three hours finding the perfect light to capture the beauty of the yarn and the stitches of my new scarf. I have to let that go so that I can check something off of my list.

I've got a lovely project on the needles now, using that Colinette yarn I bought last month. More on that later. When I have time.