While the world waits patiently for my next completed project, let's take a look back at the early work.



This is the Fiesta 'Famous Shawl', knit with about 280 yards of Fiesta La Boheme. I knit it back in 2003 on size 17 needles. It was the first thing I knit that wasn't a scarf. Well, actually, I did knit a whole sweater back in 1994, but hadn't touched knitting needles since then. I'd forgotten everything other than how to hold the yarn and knit, and how to do a long tail cast-on. I didn't know how to do any other cast-on, just the long tail, which is one of the hardest. At this point, I still didn't remember how to purl. Naturally, this meant that my second project of my second knitting era should be in a slippery, unforgiving, expensive mohair-boucle blend.

I remember cutting the fringe pieces and tying them on while watching "Wings of Desire" on IFC. I was happy with how it turned out, and then I picked it up and wrapped it around my shoulders. It turned into an shimmering, irridescent net. It drapes down to my knees.

Nevertheless, the pattern was really easy, and I latched onto it and wouldn't let go. I went out and bought some different yarn, based only on liking the color, and knit up another one. This one turned out to be more practical, with the wool holding the shape of the garter stitch.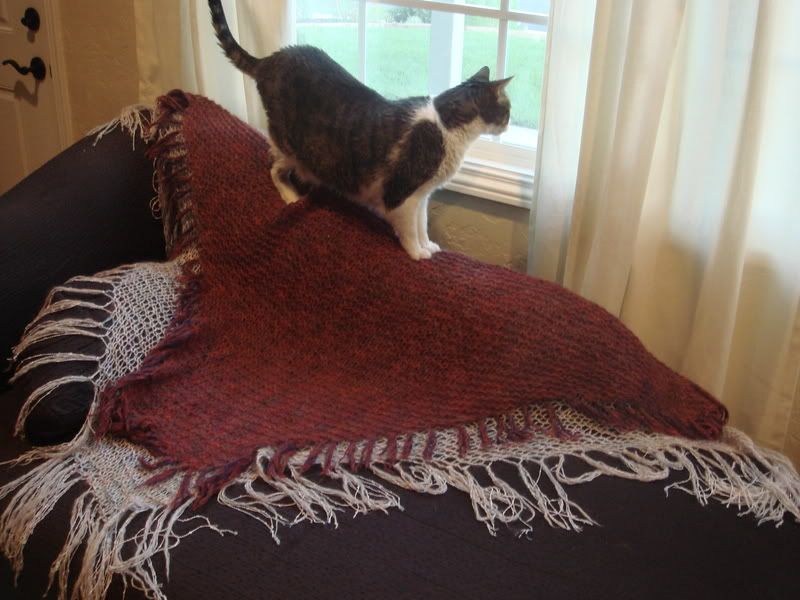 Here's a good close-up example of the difference between the two yarns. They were knit on the same needles, because I only had the one pair. They were knit within weeks of each other, so it's not a gauge-varying-over-time issue. But notice the lovely mesh of La Boheme...



...and the springy thickness of Filatura di Crosa 'College'. I liked this one so much that I went out and bought even more College and made yet a third triangle shawl in a shade that they called 'Black', and I lovingly renamed 'Guano'. Maybe pictures of that later.




What did I learn from these projects? I learned that yarn content matters. I learned how to do a backward loop cast-on. I learned that size 17 needles probably aren't right for La Boheme. I wouldn't go past a 10.5. This is the most important thing I learned, as I have bunches of La Boheme in my stash.



I was surprised to see Buddy climb up and sit on the shawls, but even more surprised a few minutes later when he stepped off of them and curled up on the only section of the chaise that was free of them.

The Woman, you should know by now that I have quite an aversion to mohair. Why have you not made a cashmere throw for your Buddy? I am deprived. -- Buddy the Cat

In case anyone is concerned, I picked Buddy up a few minutes ago and determined that he is far from deprived. A little deprivation might be good for him at this point. It's like he ate his own food, another cat's share of food, and possibly another cat. He must be tipping the scale at sixteen pounds.

You see what I go through? Help me, readers! Send albacore packed in oil! -- BtC