This weeks Knitty Blogstalker topic is Art. I wandered around Casa SuzannaBanana and took pictures of some of our objects d'art. Please enjoy!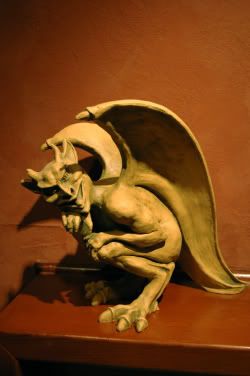 This is one of my favorites. He's supposed to be outside in the garden, but I put him on the mantle, and he fit so well that I let him stay. After a couple of weeks, I noticed that he's in the same pose as The Thinker, and he's sitting to the left of him, so it looks as though he's looking over his shoulder mocking the old guy.












I bought The Thinker for Accountant Boy when we were in school in Santa Barbara. One of the originals was on loan to the Santa Barbara Museum of Art, and we'd stop and rub his foot for luck every time we went past. That casting's made its way back to the California Legion of Honor now, so it's not too far from us.

The vase next to him was a gift from Accountant Boy. It reminded him of a Chihuly.











This is one of the three pictures hanging in my tiny, tiny bathroom. This one's a photo of my great-grandparents, Pablo and Catalina Loinaz.

Sure, maybe the bathroom isn't the most respectful place to display a photo of your ancestors, but it looks good in there, and every time I look to the right of the mirror, seeing it makes me happy. They were a striking couple.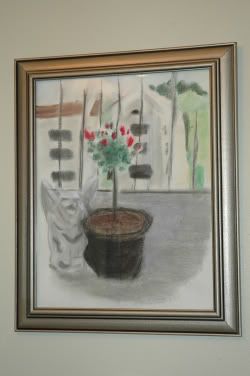 The day before I had eye surgery, I took out my contacts, sat on my apartment balcony and drew what I could see with pastels. It looks soft and purposely out of focus, but that's really as much detail as I could see. We moved a few weeks later, and the miniature rosebush died later that summer, but I still have the gargoyle out in the garden.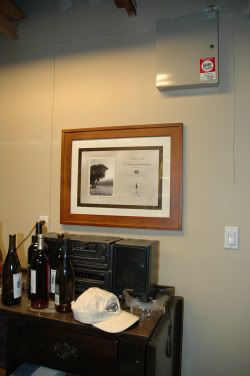 Even our garage has art. This poster was signed by Beringer winemaker Ed Sbraggia.

















I found this tin in an antique store in Visalia, California.


















And this is one of my favorite paintings ever, 'Los Borrachos' by Diego Velasquez. There's so much to love about it. It's like Velasquez caught these guys at a party at a moment in time when they were all off guard. Of course that's not the case, because he posed all of them carefully, models who had appeared in other paintings for him, but it looks like a snapshot taken at a particularly goofy kegger. Look at the guy leaning in over the shoulder of the smiling man next to Bacchus. He looks as though he's one of those guys who always knows where the camera is pointing, and always manages to give it a little wink.



What about this one, the Woman? Doesn't it remind you of the works of Laszlo Moholy-Nagy? Don't I look elegant with my organic shape juxtaposed with the rectilinear shadows from the window? I am so impossibly handsome.
-- Buddy the Cat.